The cryptocurrency market is enriched with examples of new coins that make huge gains in a short time span. The growth of these coins is, at times, triggered by their listing on credible cryptocurrency exchanges like Binance, FTX, and Coinbase. Voxies became the recent entrant in this category, as it made a huge surge in recent market hours.
Recently, Voxies (VOXEL) was listed on the largest and the most popular cryptocurrency exchange of the world, Binance. The token was rewarded and distributed among users that participated in Binance's launchpad. The participants were rewarded VOXEL on December 14. Voxies is a metaverse-centric and play-to-earn game, and its native token is called VOXEL. The coin has made headlines with its recent upsurge in terms of valuation.
Voxies storms into the world of crypto
Upon the listing on Binance, Voxies spiked almost 1,700% within minutes. The coin moved to a peak of $5.00 before falling back to the $3.80 range. VOXEL started trading at $0.2, and thus, these figures shocked the entire market. According to CoinGecko, VOXEL is valued at $3.87 at the time of writing. The trading volume of the coin has also climbed over $1 Billion. The chart below from TradingView shows the price trajectory of the coin.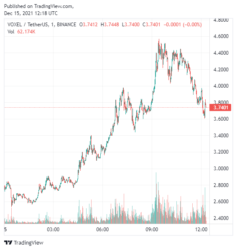 Voxies is another addition to the fast-moving world of the metaverse and play-to-earn games. However, unlike Axie Infinity, it is a free-to-play game, and players do not have to purchase characters or avatars to enter the game. Initially, the characters are provided for free by the game team, but the players can also purchase the NFT of each character. It is built as a 3D turn-based tactical RPG. Also, it is a tactical team game that is powered by blockchain technology.
In the Voxies Network, VOXEL tokens are used to make in-game purchases of items and characters. Also, VOXEL is utilized in other in-game activities. The maximum supply of VOXEL is capped at 300 million tokens. The network is currently running its public demo game by Voxie Tactics. The demo game is helping people understand the game dynamics, mechanics, and controls.
The game objects of Voxies are represented as NFTs, which allows players to bid and speculate on them in the game market and the secondary NFT markets. Voxies is built on the Ethereum network, and its avatars are in NFTs. The first launch phase of the game's metaverse will be called Voxieverse.