There has been a regular correlation between Bitcoin and equities over the previous few months since the bearish drama began in May and continues to dramatically drain investors' money.
According to Bloomberg, the largest cryptocurrency, Bitcoin, was trading at around $19,500 in Asian trading, slightly changed from the previous day but suffering from a decline of 11% from last week's ending. In the lead-up to the release of the inflation statistics, investors took a collective deep breath, which also calmed global markets.
Fed rates hike affect bitcoin
The main cause of sudden drops in the value of market instruments, including cryptocurrencies, is the multi-decadal high inflation rate. The global crypto market lost the $1 trillion thresholds because it was unable to avoid macroeconomic uncertainty.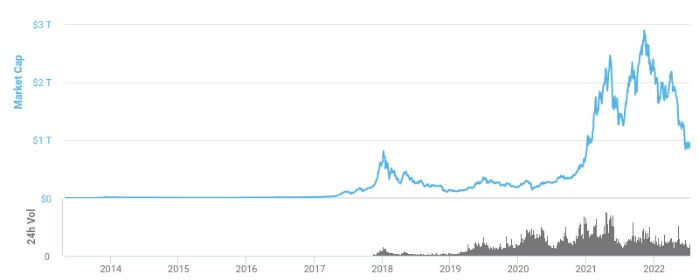 Fed rate hikes, the collapse of the Terra ecosystem, the failure of the cryptocurrency hedge fund Three Arrows Capital, and numerous other events have all contributed to a 58 percent decline in the price of Bitcoin in 2022. According to Coinmarketcap, the overall value of the cryptocurrency market was $873 billion at press time, down from more than $3 trillion in November.
A result above the predicted 8.8 percent might increase bets on the Federal Reserve tightening up the money supply, causing speculative investments like cryptocurrencies to experience volatility. But according to Bloomberg, a weaker rating might boost "market mood."
According to Chris Weston, head of research at Pepperstone Group, headline inflation below 8.5 percent might result in a situation where the dollar "downs globally" and "crypto goes up 5 percent Plus."
Similarly, earlier this week, Fairlead Strategies co-founder and technical analyst Katie Stockton stated that from a long-term viewpoint, bearish momentum is developing and that Bitcoin may test the US$18,300 to US$19,500 price range.