Zilliqa, a Layer 1 blockchain network and the creator of the ZIL token cryptocurrency, has announced the release of their new Web3-focused video game console, which could compete against major brands such as Nintendo, Microsoft, and Sony–but have an in-built crypto mining function.
The new console is made for gamers and cryptocurrency fans. The firm will begin testing the gaming centre by the end of next month, according to an official statement from the company that VentureBeat published.
Zilliqa to launch the Console in 2023
The console, which will go on sale for pre-order in Q1 2023, incorporates advanced Web3 components like cryptocurrency wallets and mining, enabling players to accumulate ZIL coins for completing in-game quests, much like how users of other games currently receive virtual currency, but with the addition of blockchain technology.
The layer-1 network stated that the move is intended to bring millions of non-native crypto users into the blockchain gaming ecosystem.
According to Valentin Cobelea, head of gaming technology at Zilliqa;
"Zilliqa's hardware console and gaming hub will allow non-crypto natives to earn money while playing fun games without the complexity of managing the crypto they earn. We will launch the console and gaming hub early next year with two Zilliqa games, followed by more games from a variety of creators."
He is optimistic, however, that with the support of Zilliqa's large crypto community and its user-friendly infrastructure, it may become the Steam of Web3 games.
Zilliqa has concealed the hardware specs of the console up to this point. Still, considering the many connections seen in the photos—including the Ethernet, USB-C, Headphone Jack, USB 3.0, and HDMI—it is anticipated to be a competitive piece of hardware compared to its mainstream rivals.
The developers at Zilliqa worked on the console for six months during the research phase, creating and testing it with the goal of seamlessly fusing Web3 elements into a recognisable gaming experience.
Zil Token's Price Reaction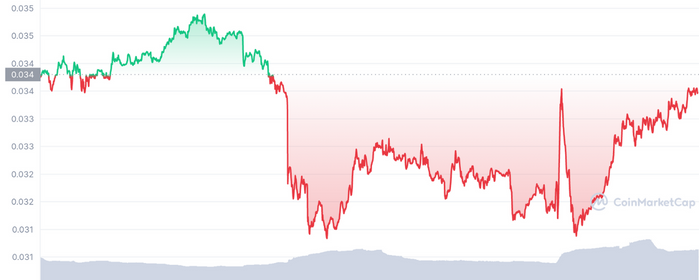 At press time, the price of ZIL seemed to be positively responding to the announcement. The token's price is currently $0.03351, up 5.75% over the previous day.
It has dropped by more than 75% since its all-time high of $0.208 recorded in May 2021.