The world's governing body of football, FIFA, has announced its partnership with Algorand, a green blockchain technology company, to make the blockchain network the soccer association's first official blockchain platform.
FIFA is searching for large partners in the blockchain field as we prepare for the FIFA World Cup 2022 in Qatar, primarily for sponsorship and technical collaboration partnerships.
With its potential to house different digital assets, blockchain's application in various areas has exploded in recent years. As part of the agreement, Algorand will provide the official blockchain-supported wallet solution, as well as assist FIFA in building its digital assets strategy. FIFA, on the other side, will deliver assets like media exposure, advertising, and promotional opportunities. 
Algorand will also become a regional supporter throughout North America and Europe for the 2022 FIFA World Cup, which will be staged in Qatar in November and December 2022, as part of the collaboration announced on Monday, May 2.
BREAKING: @FIFAcom has announced #Algorand will become the official blockchain of FIFA, empowering the global football community with cutting-edge, sustainable technology. Read more 👉 https://t.co/LTTUqGNLNA @FIFAWorldCup #FIFAWorldCup pic.twitter.com/LuEFTY3WK6

— Algorand (@Algorand) May 2, 2022
Algorand will also be an official sponsor of the 2023 FIFA Women's World Cup in Australia and New Zealand.
According to CoinMarketCap statistics, the price of the ALGO token, the Algorand blockchain's native currency, increased by more than 20% as a result of this announcement.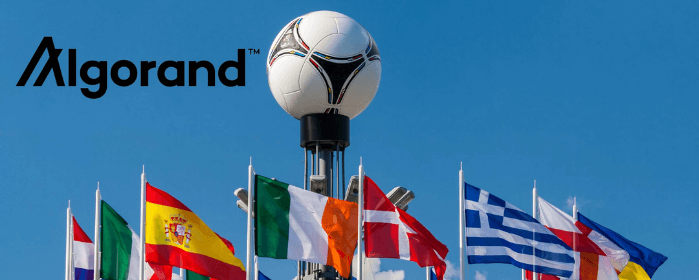 Official Remarks
Speaking on the announcement, the president of FIFA, Giani Infantino said:
"We are delighted to announce this partnership with Algorand. The collaboration is a clear indication of FIFA's commitment to continually seeking innovative channels for sustainable revenue growth for further reinvestment back into football ensuring transparency to our stakeholders and worldwide football fans – a key element of our Vision to make football truly global. I look forward to a long and fruitful partnership with Algorand."
"This announcement is an exciting moment for FIFA, as it officially enters into the world of blockchain and the opportunities this presents across various applications. At FIFA, we must constantly strive to identify and explore the most cutting-edge, sustainable, and transparent means of increasing revenues to continue to support global football development. Algorand is clearly a forward-looking, innovative partner that can help us achieve the goals," FIFA Chief Business Officer added.
While discussing the relationship, Algorand's founder enthused about the blockchain network's progress and successes. Silvio Micali expressed:
"From the beginning, Algorand has focused on building technology that promotes inclusivity, opportunity, and transparency for all; this partnership with FIFA, the most globally recognized and distinguished organization in sports, will showcase the potential that the Algorand blockchain has to transform the ways we all experience the world's game."