The rise of the NFT industry revolutionized the blockchain sector in several ways. Many new projects made their way into the market. Some standout projects, like Bored Ape Yacht Club (BAYC), received praise from all over the sector. Citing this rise in popularity, the BAYC collection came up with its own crypto token, ApeCoin (APE). The coin was an instant hit in the market, reaching record highs in a short time.
In the latest market hours, ApeCoin has gained 30% in its valuation. APE reached $16.70 before retracing to the $16 mark. It meant that APE did not test its previous all-time high. The coin is currently priced at around $15.80. The APEUSD chart below shows the price trajectory of the coin.
Moreover, the coin's market cap also saw a major boost of over 25%. Now, APE is listed as #33 in the list of top cryptocurrencies. Due to the recent price surge, its 24-hour volume rallied by over 300%.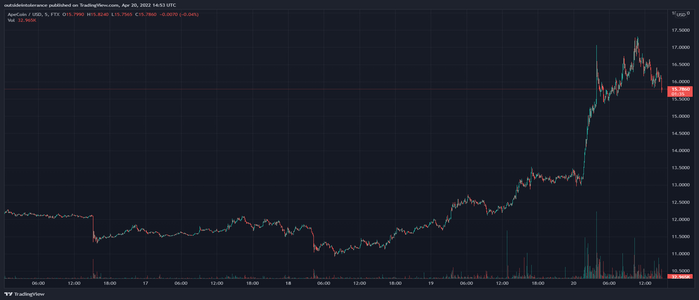 ApeCoin grows despite the crashing NFT industry
The hype around the NFT market is slowly fading away. Investors and traders are losing interest in these digital artworks. The sudden fall of the NFT sector is similar to its immediate rise. Perhaps, this is not the end of the road for NFTs. Even though it is not the same as before, it has the tendency to bounce back in the future.
Under these circumstances, the rise of ApeCoin seems unusual. Smaller NFT collections are gradually dying. Thus, the surge of BAYC's ApeCoin has no significant reason backing it. Several experts have analyzed the charts of APE. They fear that the coin might see the end of its bull rally soon, and it could eventually face a significant price crash.
Apart from ApeCoin, the rest of the NFT sector is already facing challenging circumstances. The monthly trading volume of OpenSea has dropped to only $2.10 billion in April. The fall of the biggest NFT marketplaces is also a concern for the industry. Additionally, the number of newly released collections is also decreasing.
One primary reason for the decline of the NFT sector is the lack of quality in new NFT projects. Developers have focused more on quantity rather than the quality of the projects. Investors are losing interest because they constantly face liquidity issues after minting. However, this does not stand true for BAYC and several other reliable projects. It is also a reason that APE has performed better than expectations. However, the next few days will show a clear image for the coin's future.