Bitcoin (BTC) is at its highest level since early October, having risen above $20,000 on October 25 after profiting from the recent US dollar weakening.

At press time, the biggest cryptocurrency by market value was changing hands at $20,252, up 4.7% in the previous 24 hours. Bitcoin (BTC) last reached this level on October 6th.
The typically volatile bitcoin market has been relatively calm in recent weeks, especially since the beginning of this month, holding the price at just around $19,000.
On October 21, Bitcoin slightly went below $19k, but the volatility in the market was quite massive yesterday, as the asset added more than $900 in price–although with about a 5% increase in the past 7 days.
However, the relative stability in the bitcoin market can be attributed to investors remaining concentrated in the U.S. Federal Reserve's continuous struggles to suppress inflation without throwing the economy into recession.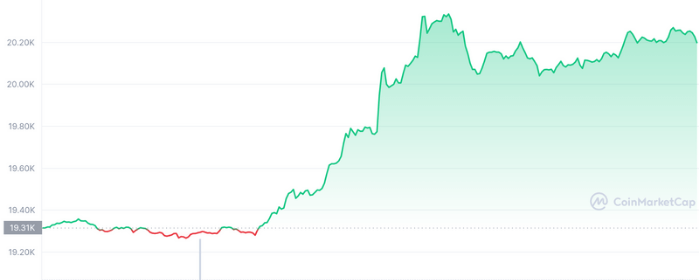 The cryptocurrency community remains optimistic about bitcoin. Notably, self-proclaimed technical analyst Crypto Rover reaffirms on Twitter his belief that Bitcoin will reach $100k by 2024 and that the leading coin will attain a million-dollar market cap.
I think #Bitcoin will hit $100,000 before 2024

— Crypto Rover (@rovercrc) October 25, 2022
Ethereum and Altcoins Follow Suit
Most altcoins, including Ethereum, Cardano, and many others, have seen significant price increases in the last 25 hours, with each seeing an increase of more than 10%.
On October 20, 320,000 ETH tokens were exchanged between whale addresses on the network, sending the popular altcoin Ethereum (ETH) below $1,300 before bouncing back ever since, according to data from the on-chain analytics platform Santiment.
Also, the firm recently reported that an Ethereum whale wallet that had been inactive for more than 6 years awoke late yesterday and transferred $22.2 million in Ethereum (ETH) to an empty wallet. 
🐳😲 An #Ethereum whale wallet that had not been active for 6+ years woke up today & moved $22.2M worth of $ETH to an empty wallet. $ETH's price is +8.1% since this transaction, briefly jumping over $1,500 for the 1st time since the #merge 6 weeks ago. https://t.co/bLwZZwhJSa pic.twitter.com/L78mAfJHq2

— Santiment (@santimentfeed) October 25, 2022
As a result, the price of ETH has increased by more than 10% since the transaction, briefly crossing $1,500 for the first time since the merge six weeks ago.
At press time, Ethereum is trading at $1,486 after increasing by 10.24% and 14% in the previous 24 hours and 7 days, respectively.