The market for cryptocurrencies is famous for its swinging price patterns. However, as much as it fascinates investors, it is a point of concern for them. The crypto market never sleeps, and it is visible from the hyperactive charts and graphs of tokens. Lately, the crypto market has suffered from plunging prices. Bitcoin, along with several other digital assets, has dropped drastically.
The current market performance of crypto assets is raising eyebrows among the investing sectors. People are growing cautious of market trends. Bitcoin has crashed below the crucial $40K mark. At the time of writing, it is trading under $39,500. Before staging a short-term comeback, the leading crypto assets plunged to around $38,200. The chart below shows how Bitcoin's price has declined in the past five days.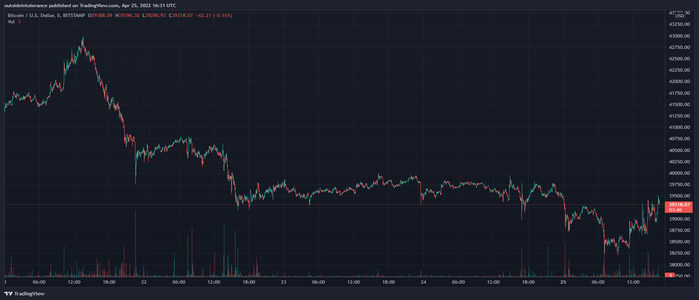 In addition to this, the overall crypto market cap has dropped to $1.81 trillion. It indicates that investors are pulling out their capital investment instead of holding their assets because of the fluctuating market momentum. Moreover, the market for altcoins has also struggled to stay above the red line. These assets have dropped to their lower support levels by constantly posting red candles.
Are Bitcoin and the crypto market in an accumulation phase?
Many experts anticipate that this price crash is only causing problems for short-term traders. Otherwise, the market is in an accumulation phase. The indicators tend to paint a positive market outlook in the coming days. Many investors and traders can eye it as a possible entry point to book profits in the coming days.
Furthermore, the correlation between Bitcoin and the stocks market is getting more robust. The poor performance of stocks is resulting in a lack of investors' interest in the crypto market. The funding rate across derivatives exchanges is also negative. It suggests that traders and investors are taking short positions in the market instead of long-term investments.
Analysts anticipate that if the demand for Bitcoin fails to hold up a strong position, we might even witness $36,000-$37,000 in the coming days. Dropping back to this level might harm Bitcoin for a long time. The activity of whales will also be a significant factor in shaping the future trend of Bitcoin and other digital assets.
Along with Bitcoin, Ethereum has also struggled to keep up with its momentum. ETH has fallen below $3,000 after a few underwhelming days of trading. It appears that the market is shifting more towards indecisiveness. The coming few days might prove to be critical for the overall market performance.