Kraken, one of the world's largest cryptocurrency exchanges has been granted a license on Monday, 25 April 2022 by DUBAI – Abu Dhabi Global Market (ADGM) to operate a regulated virtual asset exchange within its territory.
In the whole of the United Arab Emirates (UAE), Kraken is said to be the first global crypto exchange to be given a full financial license from the ADGM.
The crypto asset exchange is expected to start operations by the second or third quarter of the year, according to the Chief Executive Officer of Abu Dhabi Global Market Registration Authority, Dhaher bin Dhaher.
The Crypto exchange was established in 2011 and currently has more than 8 million global users across 60 countries. Now, Kraken is extended to offer its services to the inhabitants of Abu Dhabi and as a result, will now be able to allow users to invest, trade, withdraw, and deposit virtual assets in dirhams, UAE's native currency.
The UAE's business hub, Dubai, has been attracting cryptocurrency firms and projects team members, and it has issued laws governing digital assets and formed the Virtual Asset Regulatory Authority (VARA) to oversee the sector and make sure all participants are duly protected in the "unregulated" industry.
The initial introduction of the virtual asset regulatory framework was in 2018, and has since then, established itself as a leading global hub and business platform for virtual asset activities for local, regional and international firms.
The United Arab Emirates (UAE) Accommodating Crypto Firms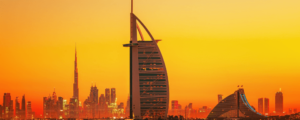 Chanpeng Zhao, Binance's co-founder and CEO, told Bloomberg last month that he will be based in Dubai for the "foreseeable future" and that it is the company's headquarters by "any common interpretation." He also stated that many of the company's employees will follow the boss's (his) lead and relocate to the skyscraper-studded city in the coming months.
Virtual asset providers are trying to increase their presence in the UAE because of its progressive approach, according to Dharher, who said that countries throughout the world are adopting a stance on crypto legislation.
Similarly, Binance Holdings Ltd., the world's largest crypto exchange by trading volume, has received in-principle clearance from ADGM to function as a virtual asset broker-dealer. That came a month after the exchange got a license to operate in Dubai.
Another popular exchange, FTX, also received a virtual asset provider license in Dubai last month and said it plans to set up a regional headquarters in the city, to expand its services more efficiently. Bybit and Crypto.com are also expanding their presence in the crypto-accommodating city, while BitOasis is the first Virtual Assets Service Providers (VASP) to be recognized in the country, and also secured provisional approval from the regulatory body.