After a negative path that saw Bitcoin price drop significantly below the $20,000 support zone, drop over 10% and even drop below the $18,000 level, the leading currency has shown a slight indication of recovery, rebounding by up to 10% and regaining its over $20k price.
Over the weekend, Bitcoin fell below the psychological 20,000 barrier. On Saturday, it fell to a low of $17,599 before rising to over 20,000 on Sunday. On Monday, the price is still revolving around $20k.
The global market shows a sign of recovery
Over the last 24 hours, the market has been in the green. Bitcoin, the market leader, increased by 10.44%, while Ethereum increased by 14.00%. Meanwhile, the major altcoins have restored reasonable percentage gains, with Solana up 13.7 percent and Litecoin up nearly 15%.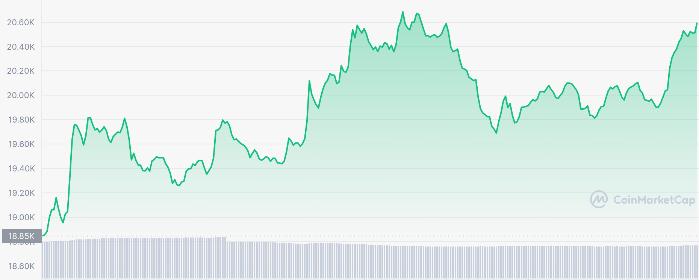 After an initial surge lower last week, Bitcoin has continued to fall over the past week. From a peak of roughly $24,011, BTC/USD has dropped almost 14% to the present price, indicating that sellers will soon be fatigued.
Bitcoin's price at the time of writing is $20,345.82, with its current dominance of 43.48%, an increase of 0.67% over the day. Bitcoin (BTC) currently has a trading volume of USD 36.48 billion, with a live market cap of around USD 400 billion.
BTC, however, struggled to recover past $23,000 following some reaction to the $20,000 prior low at the start of this week. Following a retest of $20,000 support on Friday, there was a minor consolidation in an even tighter range.
Despite the green charts that have appeared all over the top cryptocurrencies, the entire global market worth is still at $892 billion, up 9 percent from the previous day, according to data.