As the dominant cryptocurrency, bitcoin continues to struggle to break over the $20K threshold, it looks like the bears are steadily seizing control of the entire cryptocurrency market.
The largest cryptocurrency comes out of a sideways weekend with a weekly close that is nearly precise at the $20,000 level, but that crucial psychological threshold is already struggling.
The price of Bitcoin (BTC) has decreased by around 1% over the last week, despite the fact that the majority of the main coins are in the green and have increased by tiny percentages in the past 7 days.
Bitcoin struggles near $20K
The bulls appear to have given up at last. Bitcoin is currently changing hands at about $19,700, having risen from its daily low of about $19,600.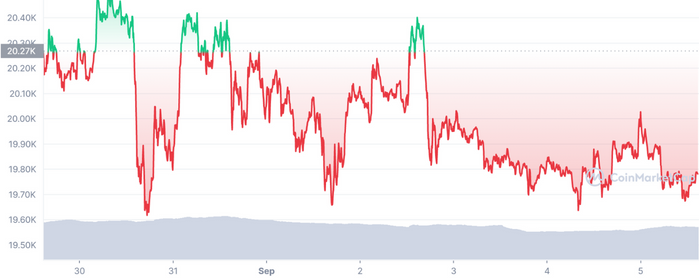 Numerous occurrences have been reported this year as a result of the ongoing decline in the value of Bitcoin.
The coin began July at around $19.9K, dropped to about $18.8K for the month, had a peak in July of about $24.7K, and finished July at about $23.3K. Then, it began in August at around $23.3K, fell to $19.6K, rose to about $25.2K, and concluded at about $20,000.
Bitcoin's price has dropped exactly one year ago, from $51,753 to $19,707, with a present $27.6 billion 24-hour trading volume. The trade volume rose by $15.7% over the course of 24 hours, indicating a rise in trading activity at the start of the week.
Bitcoin bulls had it easy this last weekend as prices fluctuated for two days around $20,000 due to a lack of volatility.
However, as there was no overarching trend, previous price projections held true, and even the weekly close itself continued to put the market in uncertainty.