Bitcoin (BTC), which has dropped to a new low below $20,000, closed two consecutive bearish weekly candlesticks–contributing to the ongoing decline in the global cryptocurrency market capitalization.
The leading cryptocurrency has been on a downward trend since hitting an all-time high price of $69,000 in November 2021, after various incidents hit the worldwide market in 2022. Bitcoin's price dropped to a low of $17,622 in mid-June, 2022–but it recently increased to over $25,000, making the increase temporary.
At the moment, the coin has produced two consecutive weekly candlesticks that are bearish and is once again trading at the $19,800 horizontal support level. However, the price has now recovered to about $19,900, but the cryptocurrency is still down some 6.5% in the past week, according to data obtained from Coinmarketcap.
Altcoins feel the pressure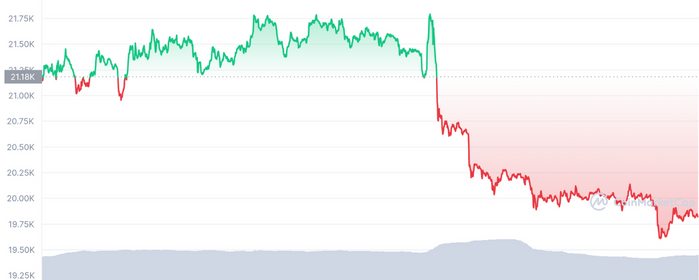 As Bitcoin's price fell to a daily low of almost $19,500 and other altcoins felt the pressure, the cryptocurrency market continued to struggle, with its total capitalization losing another $50 billion over the last 24 hours.
Over the past day, Ethereum has decreased by 2.80%, BNB has decreased by 1.52%, and XRP, Cardano, Solana, and Dogecoin have all down by 4.37%, 3.45%, 3.55%, and 3.14%, respectively.
It's also important to note that BTC's dominance, a typical statistic used to compare its performance to that of the market as a whole, climbed by 0.22% during the course of the previous day. This indicates that BTC still outperformed alternative cryptocurrencies.
At the time of publication, Ethereum, the second-biggest cryptocurrency, has a dominance of 18.9%, compared to the world's largest cryptocurrency, which has a dominance of about 39.8%.
What next?
The support level of 18.9k is one that Bitcoin must definitely hold, according to bitcoin analyst Matthew Hyland on Twitter.
"Start closing below it and new 2022 lows are incoming," he maintained.
$18.9k is the support #Bitcoin absolutely has to hold

Start closing below it and new 2022 lows are incoming… pic.twitter.com/qZYk8jT8eW

— Matthew Hyland (@MatthewHyland_) August 28, 2022
It seems like now is not the best moment to hold Bitcoin. The world's largest cryptocurrency may see better times in the nearest future, but only time will tell.