The Central Bank held another meeting yesterday to discuss the rate hikes despite causing little volatility in the cryptocurrency market. The UN's pressure on the central bank, however, seemed to have jogged the cryptocurrency market upward.
Following Jerome Powell's announcement at an economic summit some weeks back that interest rates would be rising, the price of cryptocurrencies immediately tumbled.
Crypto Market Rallies
The majority of the top altcoins are currently in the green over the past 24 hours, and Bitcoin has recently broken through the $20,000 mark.
A few hours before press time, the leading cryptocurrency by market value rose to a high of $20,354, recording a gain of 2.66% for the day.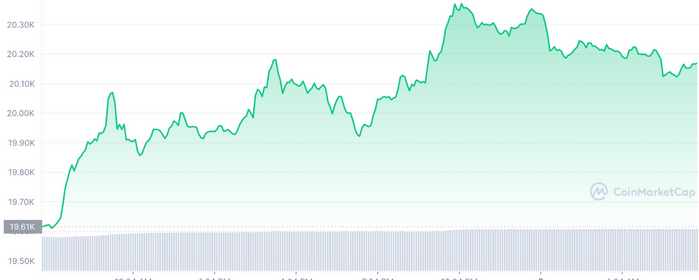 BTC/USD is currently changing hands at $20,136 on Coinmarketcap-serving as the highest level it has reached since September 30.
Ethereum (ETH) also reached a five-day high during the current session, breaking through a significant resistance level in the process.
The second-largest cryptocurrency, which started the week at a low of $1,294.41, was at $1,350 at the time of publication, up 1.66% over the previous day.
Some other market gainers since yesterday include the Binance coin (BNB) up by 2.7%, XRP by 4.75%, Dogecoin (DOGE) by 8.12%, and Polygon (MATIC) by 2.74%.
The UN Urges US Central Bank to Cool Down the Rate Hikes
The United Nations Conference on Trade and Development (UNCTAD) has cautioned that the global economy may suffer as a result of interest rate hikes by the U.S. Federal Reserve and several other central banks.
According to UNCTAD's calculations, the value of all sales of goods and services is reduced by 0.8% for poorer countries over three years and by 0.5% for wealthy countries for every basis point increase in the Fed.
According to the agency,
"Middle-income countries in Latin America and low-income countries in Africa could suffer some of the sharpest slowdowns this year."
Rebeca Grynspan, the secretary-general of UNCTAD who authored the report, projects that the average growth rate for developing economies will fall below 3%.
This pace is unsuitable for sustainable development and will further strain public and private finances while harming employment prospects.