Despite recent market volatility, Bitcoin (BTC) has been able to maintain above the $22,000 barrier after plummeting from its June 30k peak, now reaching its highest level since mid-June.
According to data from CoinMarketCap at the time of writing, the market capitalization of all cryptocurrencies increased by almost 9.8 percent in the previous day to $952 billion, and Bitcoin is presently settling above $21,000 after several days.
The asset stabilised at roughly $19,000 over the course of the weekend after experiencing such an increased price approaching the previous weekend's volatility. Since Monday was the US national holiday celebrating July 4, there was little price movement on either day.
On Tuesday, the BTC surged to over $20,000 before going through another slide in which it fell to $19,250 and then soared back up to $22k in the last 24 hours.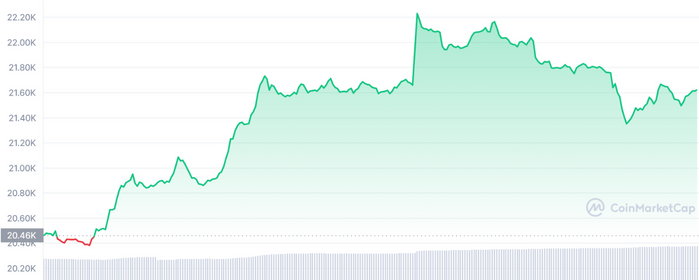 Although the recent price increase is a good sign for bulls, Piper Sandler Companies' head market technician Craig Johnson recently stated that they would need to close above $26,000 to indicate the end of the current downturn.
Mike Novogratz, chief executive officer at Galaxy Digital, reportedly claimed that bitcoin values could still be lower in a U-Today report. "We're gonna go sideways… Could we go lower? Certainly, we could," the crypto tycoon stated.
Altcoins follow suit
Bullish vibes persisted in the cryptocurrency markets for the second day in a row as top coin values recently experienced significant increases.
Most major altcoins are currently marginally up as well, with ETH surging to a near 10-day high of $1,200. The leading cryptocurrency is still down more than 68% from its last year's all-time high of $69,044, though.