Bitcoin's price is approaching $19,000 after falling to its lowest level since last week, as investors await Thursday's U.S. inflation figures, which may influence the Fed's interest rate rise.
Yesterday, bitcoin was struggling around $19,500 and spent the greater part of the day there on low trading volumes. However, it had a slight increase of less than 1% just hours ago, but it has since dropped below $19,200, reaching its lowest price since October 3.
At press time, the largest coin is trading at around $19,170 with an hourly decrease of 1.3%, recording about a 19% boost in trading volume in the last 24 hours. Its market cap is now below $370 billion, while its dominance over the altcoins has calmed at 39.5%.
Bitcoin's price continues to struggle to break $20k
The price of bitcoin, just as it did for the entire month of September, is still having a hard time staying above the psychological support level of $20,000. At this point, a substantial price increase is unlikely without a firm push from whales and retailers.
Furthermore, most of the leading alternative cryptocurrencies have reflected Bitcoin price trends Monday morning after falling by a small percentage. Most of them are currently in the red, although with an initial positive movement–just as BTC did.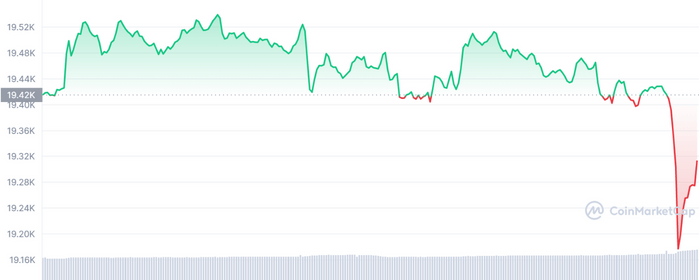 The largest altcoin by market cap, Ethereum has defended the $1,300 level, despite a minor daily retracement. ETH is changing hands around $1,307, having depreciated by 0.61% in the last 24 hours.
Binance Coin, Cardano, Solana, Dogecoin, Polkadot, Shiba Inu, Polygon, Tron, and Avalanche are also with minor daily losses.
However, TerraClassicUSD, Huobi Token, and Terra Classic are the top 3 biggest gainers in the last 24 hours–with increases of 44.1%, 12.7%, and 4.7% respectively, according to Coinmarketcap data.
On the other hand, the Quant (QNT) token, which rallied above $160 yesterday Sunday, has dropped by 6%–sitting at $152. Along with QNT, Chilliz and Lido DAO are the three biggest losers over the last 24 hours.
Russia -Ukraine War
The disquieting actions of the Russia-Ukraine war seem to have put the world market at risk of further collapse.
According to a tweet from the Ukrainian defense ministry, airstrikes were launched in the city of Zaporizhzhia in Ukraine early yesterday. It stated that Russian missile strikes killed 17 civilians in the southern city of Zaporizhzhia.
Another russian missile strike on the city of Zaporizhzhia. 17 civilians were killed.
If #UAarmy had modern Western anti-missile systems, we could have prevented such tragedies. pic.twitter.com/6mTHlFshF9

— Defense of Ukraine (@DefenceU) October 9, 2022