The largest cryptocurrency, Bitcoin has dropped below $19K for the first time in more than 60 days, and the market value of all cryptocurrencies is currently below $1 trillion.
Bitcoin has been surprisingly quiet since before the asset crossed below the targeted $20,000 threshold at the end of last month, despite a few unsuccessful attempts to recapture that level.
Despite a few hundred dollars worth of additions since then, the asset continues to struggle below $19,000. As a result, its market value has decreased to $359 billion, and it now holds a 38.2% market share over other coins. BTC has decreased by 5.89% during the past 24 hours and 7.89% over the previous seven days.
Alternative coins also dropped
The alternative currencies, many of which yesterday saw significant gains, are now all in the red, with ETH wiping out all previous gains.
The majority of the top cryptocurrencies have likewise experienced steep declines during the past 24 hours. Notable declines include those of Polygon (MATIC) by 10.58%, Polkadot (DOT) by 8.7%, Solana (SOL) by 6.88%, and Cardano (ADA) by 7.96%.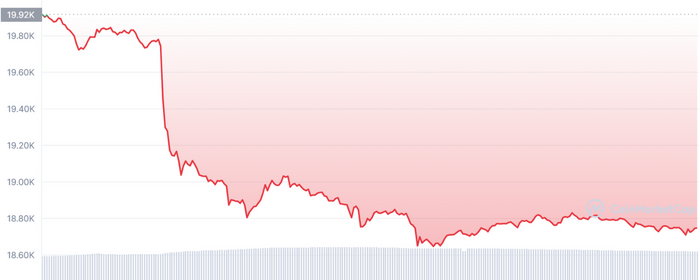 What happened?
Over 60% of the value of Bitcoin for the year has already been erased. This cryptocurrency is being negatively impacted by the sell-off of other cryptocurrencies, which are being sparked by industrial failures and a deteriorating macroeconomic situation worldwide.
The collapse of the Terra stablecoin ecosystem, the bankruptcies of Voyager Digital and Celsius Network, the collapse of the hedge fund Three Arrows Capital, and the shutdown of a few more crypto service providers since June have all contributed to a further decline in the value of digital assets.
The performance of the American stock market is, as usual, closely related to the asset's fall. Stocks fell Wednesday following a volatile trading session, in part due to worries that the Federal Reserve would keep hiking interest rates.
Cryptocurrencies and other risky assets are under pressure as a result of real interest rates, which are considered to be the true cost of borrowing, increasing.
The price of Bitcoin is falling, pushing it closer to a low point of about $17.6K that was hit in June as a result of explosions at cryptocurrency lenders and hedge funds. It's possible that the US Federal Reserve won't end its battle against inflation until it meets its target.