The worldwide cryptocurrency market has seen a modest boost in its price, making it an exciting start to the week for Bitcoin and other major cryptocurrencies.
Bitcoin is currently trading at around $31,631, an increase of 3.06 per cent in the last 24 hours. The price of Ethereum has also surged nearly 3.6 per cent to around $1,974, as well as other major cryptocurrencies.
Bitcoin has a market capitalization of $602.89 billion at the time of writing, with a 45.9% market share. The market capitalization of all cryptocurrencies is presently around $1.31 trillion.
China Eases Covid Restrictions
After the authorities declared the Covid epidemic under control on Sunday, travel and similar restrictions in China were eased.
Shanghai Vice Mayor Wu Qing stated that the administration intends to loosen constraints in order to assist businesses in resuming operations and outlined a strategy for speeding the economic recovery.
"We will fully support and organise the resumption of work and production of enterprises in various industries and fields," vice mayor Wu Qing told reporters, adding that "unreasonable" COVID restrictions on businesses would be lifted.
The city also took steps to boost its economy, such as lowering some car-purchase taxes, speeding up the issue of local government bonds, and expediting the approval of real estate projects.
Officials said bus services in the Pudong New Area, which includes Shanghai's largest airport and financial area, will be fully restored by next Monday.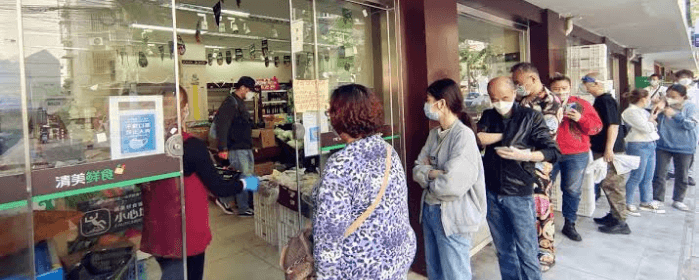 On Sunday, Plaza 66, a shopping mall in central Shanghai that houses Louis Vuitton and other high-end shops, reopened.
Authorities are gradually easing restrictions in order to re-establish productions
Shanghai's city administration spokeswoman, Yin Xin, said earlier on Sunday that starting on Wednesday, testing criteria for persons who want to enter public areas will be relaxed in order to encourage people to return to work.
Although many inhabitants remain primarily restricted to housing compounds and most shops are only open for delivery service, more people have been allowed to leave their houses and more businesses have been allowed to reopen.
Furthermore, this year, the Chinese capital will require banks to renew loans to small and medium-sized businesses worth a total of 100 billion yuan ($15 billion).
However, the cryptocurrency market's strong reaction appears to be closely linked to equity markets, which fell marginally on Monday but rebounded this morning. China's Covid-19 lockdowns have been eased, leading to a 0.66% increase in the FTSE 100 stock index, according to Bloomberg.