After the sharp increase in the cryptocurrency market lately, Coinbase stock (COIN) has also joined the party by gaining around 60% in the last two weeks. The stocks are now worth $83.99 per share in the market. The token has gained pace since March 10, rising from $53.44 to almost $84 in only 12 days.
Previously, COIN lost almost 86% of its value in 2022, but it has bounced back in the first three months of 2023. Investors are showing a keen interest in Coinbase (COIN) mainly due to the growing banking crisis within the US. This banking crisis has paved the way for more investments in cryptocurrencies.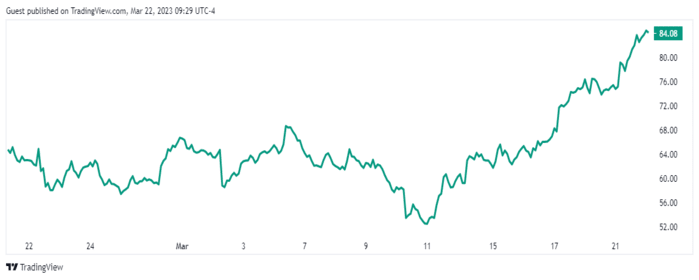 ARK Invest Takes Profit By Selling COIN
One of the most prominent growth investors in Coinbase (COIN), Cathie Wood's ARK Invest has sold more than 160,800 shares of COIN. Since late 2021, ARK Invest has continuously added COIN in its investment portfolio. However, this is the first time it has sold the shares to book profits. The company bought more than 2.7 million stocks of COIN last year.
Moreover, the ARK has made about $13.5 million by selling these shares. ARK has now sold 9% of all COIN shares it holds. Despite its price increase, Coinbase (COIN) is still 53% below its price from a year ago. Nevertheless, the stocks look promising to continue its stride forward in the coming weeks.
Coinbase Strengthen its Presence in Brazil
Another major reason for the growth of Coinbase's share is that the company has recently integrated with the Central Bank of Brazil's payment platform, Pix. 
Pix is a widely used payments platform in Brazil with over 140 million users. These users can now make crypto purchases and also withdraw Brazilian Reals through Coinbase.
Coinbase announced,
"It's now easy to add and withdraw money from your Coinbase account using Real, as we integrate with Pix, the famous instant payment platform of the Central Bank of Brazil. In addition, our app has been fully adapted to Portuguese, and support is available 24 hours a day, 7 days a week to help you."
The exchange believes that it is a breakthrough for them in Brazil. Back in 2021, the firm set a tech hub in the country as per its international expansion strategy. Therefore, its recent initiatives go in line with its long-term expansion goals. As a result of these initiatives, Coinbase is gaining more praise from the global crypto community and it is also a reason for the increase in COIN's value.