During the US session, Bitcoin and most cryptocurrencies saw extremely high volatility, with a strong selling trend occurring after the announcement of the US CPI numbers. Following the release of the anticipated news, Bitcoin saw a sharp decline, shedding more than 3% of its value to trade as low as $18,350; however, it is presently heading back towards $20,000 with a gain of more than 3%.
Following the inflation announcement on Wednesday, traders aggressively shorted bitcoin and altcoins, causing the BTC market to reach a 3-week high in the short vs long ratio.
The bitcoin market's unexpected bounce, according to the cryptocurrency analysis site Santiment, caused short traders who were betting against the leading cryptocurrency to lose their positions. Right now, as noted by the firm, traders are chasing short-term pumps to salvage losses. 
📢 Traders are chasing short-term pumps right now to salvage losses. Weak hands dropped out of #crypto in 2022, & long-term traders are waiting for #Bitcoin to begin receiving the spotlight again. When $BTC social dominance is high, prices typically rise. https://t.co/n7uqUnslBr pic.twitter.com/WycLauNtGW

— Santiment (@santimentfeed) October 14, 2022
The current Bitcoin price is $19,810.17, and the 24-hour trading volume is $49 billion. Bitcoin has risen by 3.81% in the last 24 hours. With a live market cap of $379 billion, Bitcoin has a maximum supply of 21,000,000 BTC coins and a circulating supply of 19,178,662 at press time.
The US CPI Number Clocks 8.2%
The Consumer Price Index (CPI), which measures the average change over time in the prices that urban consumers pay for a market basket of goods and services, is the most often cited indicator of current rates of inflation in the United States.
A crucial indicator of consumer prices in the United States reached a 40-year high in September, rising 6.6% from a year earlier to reach its highest level in four decades. This highlights persistently increased inflation that is straining consumers and pushing the Federal Reserve toward yet another significant interest rate hike.
The unemployment rate plummeted to a low not seen in more than a half-century in September, and businesses, especially in the crypto sector, have continued to shrink their staff in order to protect against the global crypto market crash.
Altcoins Follow Bitcoin's Trend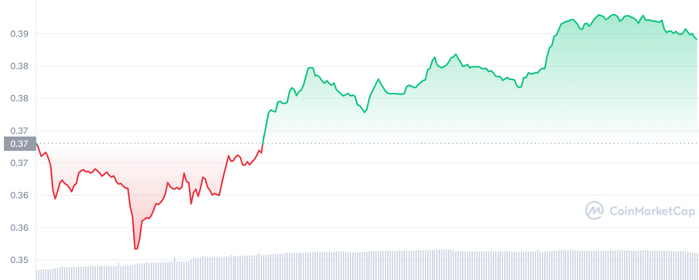 The majority of alternative cryptocurrencies (altcoins), albeit with slight changes, are also up. Notably, Cardano has started to recover with a current rise of over 5% (at $0.38) after experiencing a loss of over 20% about 1 day ago, falling to $0.35. 
Quant (QNT), Lido DAO (LDO), Uniswap (UNI), Celo (CELO), and Synthetix (SNX) are currently the top gainers on Coinmarketcap.