Bitcoin, most altcoins, and the global cryptocurrency market are falling ahead of interest rate rises expected from the US and EU central banks this week.
The world's largest and most popular cryptocurrency, Bitcoin was trading up to 8% down at $18,462 as of press time, falling below the $20,000 barrier set on Sunday.
While BTC's market dominance has stayed relatively constant—at 39.3%—the crypto market`s overall value has fallen from $1.225 trillion in August to $901 billion today.
During the previous 24 hours, the crypto economy has lost 7.46% of its USD worth. Ethereum's market domination has dropped to 17.6% as the market value of the second largest cryptocurrency fell from $239 billion to $158 billion today.
Ethereum drops to a 2-month low following the merge
The second-largest coin, Ether, has also plummeted in response to the threat of a worldwide wave of monetary tightening this week, covering the United States and Europe.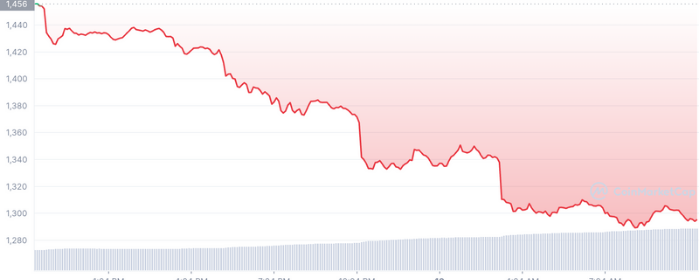 Ethereum is presently trading at $1,291, down over 26% in the previous seven days, despite its successful merge to proof of stake.
The asset was trading at about $1,600 last Thursday when the Merge was eventually completed, but it began to decline hours afterward.
It began the weekend at approximately $1,450, but the previous 12 hours have been brutal for bulls, with ETH falling below $1,300 for the first time since mid-July.
The merge is only the beginning of a series of Ethereum developments that will make it more scalable and decentralized. The second-largest cryptocurrency might face several obstacles, including a potential governmental response.
Major Altcoins follow the trend
Other major crypto prices' today performance also declined as XRP, Uniswap, Solana, Polygon, Avalanche, Binance USD, Polkadot, Litecoin, Apecoin, Cardano, Stellar, Chainlink, and Tron prices were trading with cuts over the last 24 hours.
Notably, Coinmarketcap shows that Polkadot is down by 11.62% in the last 24 hours and more than 20% in the last 7 days. Polygon (MATIC) also saw a decline of about 10% since yesterday and 17% since 7 days ago.