The FTX Token (FTT) of the popular cryptocurrency exchange, FTX.com, has experienced a significant decrease, losing about 30% at press time, owing to concerns about FTX and its hybrid investment fund/market maker Alameda Research, as well as the dispute between the FTX exchange and Binance.
As we noted in our earlier post, there appeared to be a Twitter feud between the two CEOs about something that happened with FTX's native coin, FTT. Investors in FTX appear to be in a panic after Binance disclosed its intention to sell millions worth of FTT tokens on the market.
The only option for the exchange to handle a spike in withdrawals was to take funds from its reserve accounts. The FTT token, which currently has a $2.25 billion market valuation, dropped from over $23 to almost $15 in the last 24 hours.
FTX Assets are Fine, SBF Says
Later on, November 7, the creator and CEO of the FTX exchange, Sam Bankman-Fried, asked for cooperation with CZ's Binance after the latter announced the liquidation of the FTX token (FTT) from his exchange. He said this on Twitter while also alleging that
"a competitor is trying to go after the cryptocurrency exchange with false rumors."
1) A competitor is trying to go after us with false rumors.

FTX is fine. Assets are fine.

Details:

— SBF (@SBF_FTX) November 7, 2022
He asserts that the exchange is highly regulated, "even when that slows us down." SBF also states that they have over $1 billion in excess cash, GAAP audits, and enough money to cover all of their clients' holdings.
According to his Tweets,
"We have a long history of safeguarding client assets, and that is true today."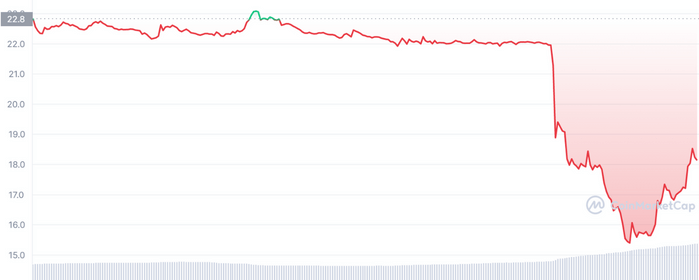 He closes his Twitter threads by adding that he would like it if CZ, CEO of the Binance exchange, could collaborate with him for the ecosystem.
"I Spend My Energy Building, Not Fighting"
Changpeng Zhao (CZ), the head of the world's largest cryptocurrency exchange, stated on Twitter that he had no intention of getting into conflict with Sam Bankman-Fried, the head of FTX (SBF).
I was out with friends yesterday when the topic of whale alerts came up. Following our principles, I decided to be transparent. So I wrote a thread in 5 mins, and posted it. Little did I know it was going to be "the straw that broke the camel's back." 1/4

— CZ 🔶 Binance (@cz_binance) November 7, 2022
He claimed that humorous memes, the media, and certain individuals had attempted to portray this as a "fight."
"Sorry to disappoint, but I spend my energy building, not fighting," CZ said. "Today I spent my day on our business & our community. I suggest others do the same. Back to building."
CZ equally maintains that it was surprising to find his comments regarding liquidating FTX token (FTT) holdings prompted such "discussions."