In a shocking recent development, a group of hackers have accepted the responsibility for conducting a widespread ransomware attack over the 4th of July weekend. The Russian speaking hacker group identifies itself as REvil or Ransomware Evil.
The group attacked over two hundred US companies and firms on Friday. It also attacked several other organizations all around the world including Swedish supermarkets, affecting more than 1 million computers. This is one of the most prolific and large-scale cyberattack recorded in the history. The cost of the encrypted data lost from these hundreds of companies is extremely high.
$70 million in Bitcoin
The hacker group posted a ransom demand for $70 million in Bitcoin on the REvil blog. Even though no company has so far disclosed the actual amount of loss it had to suffice this ransom amount is too big to comprehend for the companies. REvil demanded the ransom to publicly decrypt the data of the organizations within an hour.
The group attacked the organizations that employ the services of Kaseya, which offers IT related solutions to more than 40,000 organizations in the world. In response, the CEO of Kaseya said,
'Kaseya has done all the right things. We are waiting for a full report once this is resolved. We are really fortunate that this happened on the July 4 weekend when many of our customers are not working. If this had been a regular work week, it would have been a much bigger disaster.'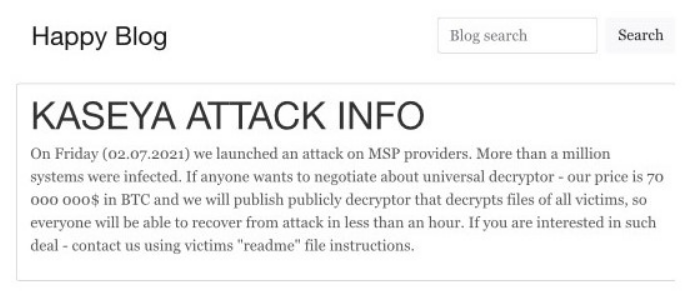 The FBI and CISA have been collectively collaborating with the management of Kaseya to reach the victims of the cyberattack. It is reported that the companies and firms will need a relatively high level of technical and cybersecurity expertise and service to get prone to these cyberattacks. There are concerns and allegations that REvil's attacks are linked with the Russian Government. However, there has been no official ruling on the matter. The US President Biden stated that officials are 'not certain' over the involvement of the Russian Government in this attack.
Previously, REvil targeted world's largest meat packer, JBS S.A., who were forced to pay a ransom of around $11 million in Bitcoin. These bitcoin were traced back to a somewhat Russian marketplace. Thus, the allegations against Russia are gaining more voice. This time around the cyberattack is much more complicated and widespread. Moreover, it is yet to be seen how the attack will impact the volatile crypto market, mainly Bitcoin.