Blur Finance emerges as the most recent blockchain project to fail and disappear with hundreds of thousands of dollars, following the disappearance of other protocols and developers, including those engaged in the Dragoma project.
The creators of Blur Finance, a yield aggregator built on Polygon and BNB Chain, have abruptly abandoned the Defi project and deleted its social media accounts. The security company PeckShield reported on Wednesday that more than $600,000 worth of tokens has disappeared throughout the process.
#PeckShieldAlert #rugpull Seems Blur Finance $BLR rugged. $BLR has dropped -99%. https://t.co/phmi0OPIbphttps://t.co/qk5c0UF6fY
The social media channel deleted and ~$600k were taken on polygon and BNBChain.
Thanks @Adam0658 for the intel. pic.twitter.com/e1oHDKkDVa

— PeckShieldAlert (@PeckShieldAlert) August 10, 2022
This action is another rug pull fraud perpetrated by the developers who released the operational decentralised finance (DeFi) application and engaged in social media promotion to increase its popularity prior to issuing the token and listing it.
Blur Finance (BLR) fell by 99%
In the expectation of seeing a profit, many investors purchased the tokens and invested in the project; unfortunately, the developers shut down the platform and vanished with more than $600,000.
Additionally, the devs have closed down their Discord server as well as their Twitter account. The webpage for the protocol also returns an inaccessible invalid certificate.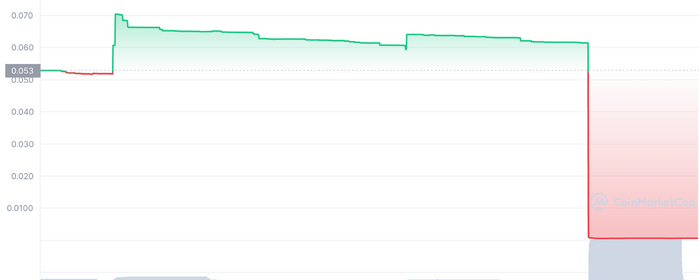 According to blockchain records, Blur currently had over 754 holders on BNB Chain with 29 holders on the Polygon chain. The project recently connected with Polygon and, as of last week, offered annualised yields of almost 4,000%. 
Following the rug pull, the project's native token BLR saw a 99% decline, trading at $.00064 at the time of writing after hitting a peak of 7 cents last week on Coinmarketcap.
Notably, Coinmarketcap points out on the platform's token page that the asset's smart contract could be changed by the contract creator, including the ability to disable selling, adjust fees, issue new tokens, or transfer tokens, even prior to the event.
"Please exercise caution before taking any action and DYOR," Coinmarketcap maintained.
A few days ago, it appeared that investors in the Polygon-based Web3 game Dragoma were the victim of a $3.5 million rug pull, and the price of TeddyDoge (TEDDY), a counterfeit Dogecoin, nearly fell to zero after plunging by more than 99% in June. Rug pulls were estimated to cost $2.8 billion in total in 2021 by a Chainalysis report.