As per the recent development, funds worth almost $700k have been drained from the liquidity pool of BNB Chain-based DeFi protocol, LaunchZone. The project openly alleges that a hacker is responsible for the massive exploit. As of now, there are little to no details regarding the drainage of more than 80% of the funds in the liquidity pool. However, LaunchZone clearly warned its users not to purchase the native token, LZ, until additional information is gathered.
LaunchZone took it to Twitter and stated that it was under a hacking attack from a DND Exploiter. However, as of now, its teams are working tirelessly to solve the issue. Considering the extent of the hack, Biswap stated that it would soon delist the token, and urged its users not to make any LZ transactions.
$LZ is being hacked from DND exploiter. The team is handling the situation, please don't buy the token at this stage. Please keep calm. We will update timely. pic.twitter.com/oXk3bFeSJF

— LaunchZone (LZ.finance) (@launchzoneann) February 27, 2023
The project claims that these would be resumed as soon as the ongoing problems are resolved. An additional result of the exploit was the decline in the trading price of the LZ token. The theft of nearly $700k has sent the native token of LaunchZone plunging more than by a whopping 82%. At the time of writing, the LZ token is currently trading for a mere $0.02632. At the same time, the total market cap of the token has dipped to $250,281.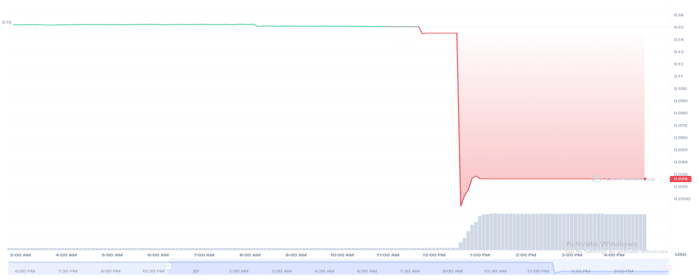 It was widely reported that the stolen funds were swapped out via the use of Pancake Swap. It is mostly exploits like these that end up resulting in severe crypto regulatory actions. Keeping this as an example, another crackdown by a regulatory body may not be too far off.
The LaunchZone Exploit Isn't the Only Attack on the BNB Chain
Over the course of time, the BNB chain has been subject to a considerable number of cyber-attacks. The chain became a victim of a $100 million exploit in October 2022, which resulted in a hard fork. In those series of events, the attackers took great advantage of the cross-chain exploit.
A critical vulnerability in the BNB chain was discovered in February 2023. The exploit would have enabled the hacker to mint an unlimited number of tokens through malicious transfers. However, the BNB team swiftly patched the vulnerability before information about it went out to the public.