The Solana (SOL) network was subject to another recent outage that resulted in a strong response of outrage from the community. In retaliation, a number of crypto community members took it to social media to openly express their concerns. Previously on Feb 25, the Solana (SOL) faced severe performance degradation issues. As a result, an increase in disruption of transactions became evident.
Leading validators regarded a network restart as the last effort as the result of the issue. Many people began to question the token's rank as a top cryptocurrency.
The Solana network is currently restarting after an issue during the upgrade from 1.13 to 1.14 that slowed block finalization

Once validators with 80% of stake have restarted the network will resume

You can track the progress of the restart here:https://t.co/HclrUqWQ2y

— Solana 🧭 Compass 🔥💃 (@SolanaCompass) February 25, 2023
It is necessary to keep in mind that Solana (SOL) has been a victim of a number of outages over time. The most recent network outage lasted for approximately 18 hours and 50 minutes. Similarly, this network issue can be defined as the first interruption in 2023. Solana (SOL) faced almost 11 major and 3 minor outages throughout 2022. The downtime outages ranged anywhere between 1 hour 15 minutes and 17 hours 7 minutes during that period.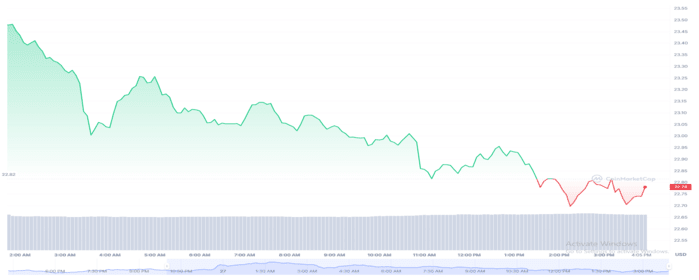 Furthermore, the recent outage of the network wasn't exactly kind on the price of the token as well. Apart from the community remembering that the Solana network has a severe design flaw, the price of the native token experienced a dip as well. At the time of writing, Solana (SOL) is currently trading for $22.78 after suffering a decline of almost 0.18% in the previous 24 hours.
The Fabled Design Flaw of Solana (SOL)
A great percentage of the community believes that the outages result from a flaw that slows the network down. Solana (SOL) adopts an on-chain consensus model. This suggests that network transactions consist of consensus communication between validators and the transactions. Furthermore, token transfers and NFT minting are also a part of this.
Almost 90% to 95% of the transactions are made up of validator messages. The increasingly high validator messages are responsible for bogging the system down. Whenever the network goes down, it becomes difficult for the validators to speak to one another. In such scenarios, they often shift to Discord and decide their next best course of action