The cryptocurrency market enjoys sheer volatility, as the prices of various coins and tokens continue to fluctuate. Over the years, we have seen that the crypto market has invalidated many predictions and analyses. Even the likes of Bitcoin have been unable to remain their solid position in the market.
Towards the end of 2021, it was evident that nothing is stable, and the crypto market does not move in a single direction. The predictions of Bitcoin analysts like Plan B were nullified due to the persistent bear market.
However, Plan B is again growing bullish over the performance of Bitcoin. In December 2021, the Floor model of Plan B was missed. But the S2F model was not affected and was on track for $100,000. Plan B has previously said that people should not confuse its Floor and S2F models. Also, the platform believed in the Floor model, as it accurately predicted three months on a trot.
Plan B continues to trust its S2F model
Plan B has now tweeted that its S2F model and logarithmic regression suggest that Bitcoin will touch $100K in 2023. There were concerns that the prices of Bitcoin have been hovering below the S2F model since its last halving. As the S2F model is advocated as the most sound model to predict the prices of Bitcoin, it was a major concern for the crypto community.
However, Plan B believes that such concerns are not that significant as we should be patient till the end of the ongoing cycle before jumping to any conclusions. The second half of the cycle can experience higher prices that can put the average back to around $100K. This is why there is currently no urgency to refit or revamp the model with the lower data recorded lately. The price of Bitcoin currently stands at over $44,200.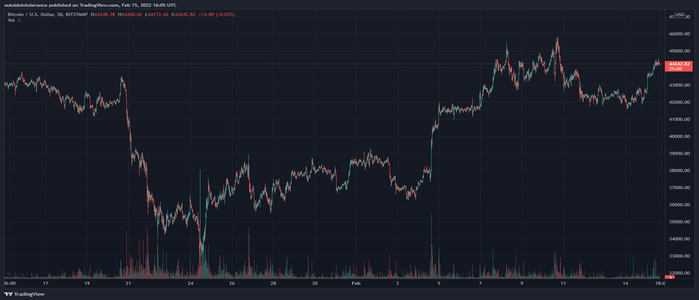 The predictions and analyses put forth by Plan B are only for informational purposes. The platform strictly instructs its followers to not take it as a piece of financial advice and conduct their own research. However, models like S2F are a great way to study the performance of the market-leading crypto token.
The set of financial experts and crypto geeks at Plan B critically analyze and comment on its models. This is why more and more people are appreciating the efforts of the platform in simplifying the working mechanism of Bitcoin for the consumers. Nonetheless, the next few months will be crucial to determine a clear set of trends for the performance of Bitcoin.