The cryptocurrency market is a mix of hundreds and thousands of digital tokens and coins. There are several coins that attract traders and investors from their profit potential or use-cases. This is why the list of top cryptocurrencies continues to change and alter. However, Bitcoin and Ethereum continue to remain the undisputed leaders of the market. Both of these have savored the spot as the top two crypto tokens in the industry.
Nonetheless, Bitcoin and Ethereum also experience spells of bullish and bearish rallies in their valuation. They are considered to be the most credible and reliable crypto investments. But the unforgiving market volatility takes a toll on them from time to time. Being the leader of the altcoin market, Ethereum undergoes severe scrutiny from experts and analysts. The coin is currently priced at around the $2,950 mark. The chart below shows the performance of ETH from October 15 till February 14.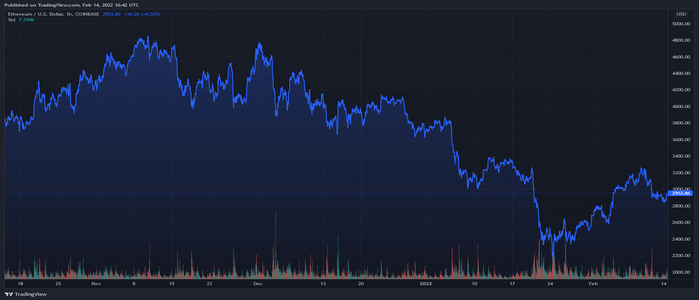 The growth potential of Ethereum in the longer run
Many predictions are made by experts in connection with the performance of ETH in the digital asset industry. A few of them hit the target whereas many are just left unfulfilled. By October 2021, experts were growing far more bullish towards Ethereum for the longer time period. They had  predicted a value of over $5,140 of ETH by the end of 2021. In addition, ETH was predicted to stand at over $15,300 by the end of 2025, and at over $50,700 by 2030.
However, at the time of writing, the views of the experts have changed by a fair margin. The dwindling performance of ETH has a lot to do with this change in perception and prediction. By January 2022, the coin was sitting around $2,420 which is more than halfway down of its actual prediction. Therefore, the long-term predictions of the coin have been dialed back significantly.
Experts believe that Ethereum prices will jump to $6,800 till the end of 2022. There are certain factors that can limit or propel this growth of the coin. Most importantly, the anticipated Eth 2.0 network upgrade will play a keen role in deciding the token's future. It has been around for quite a while now, and its launch has been delayed several times.
Ethereum's shards and layer-2 scaling solutions will also be a critical factor in deciding the fate of the coin. However, experts believe that traders and investors should buy and hold the asset, as it can still help them in accumulating hefty profits in the future.