Stack, a company focusing on crypto education, has released a cryptocurrency and education trading app for inquisitive teenagers to learn about cryptocurrencies—how to trade, hold, and guard themselves against risks.
The firm rolled out the cryptocurrency trading app on Thursday to give young crypto enthusiasts better educational alternatives to what they would learn from crypto influencers on social media sites like Reddit and TikTok.
A Crypto trading and Education App for Parents and Teenagers
Will Rush, the CEO of Stacks, claims that it is "the first crypto education and trading software for teens and their parents," according to a Thursday report published by an American online publication Techcrunch.
The parental controls of the app and Stack's compliance with the Uniform Transfers to Minors Act, however, allow parents and legal guardians to keep ownership of the account and assets until their teenager becomes 18 years old.
The Android-compatible subscription-based software has a monthly user fee of $3. According to the CEO, it was created with Gen Z in mind, a generation that will grow up with the blockchain and probably own some sort of digital assets.
The Stack team, which includes CEO Will Rush, CTO Natalie Young, and CCO Angela Mascarenas, has over 30 years of expertise in mobile apps & fintech.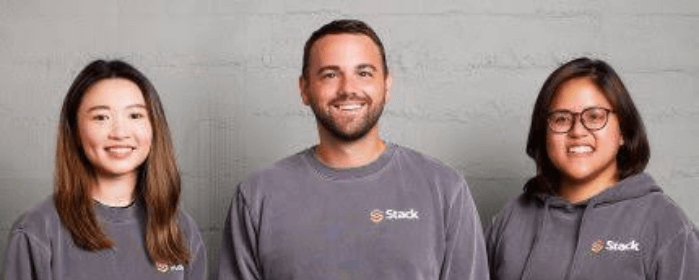 Currently, eight individuals are working for the firm, and this year, they plan to add two more.
They have collaborated on a variety of apps, such as Girl Scouts, Copper, Chase Pay, Charles Schwab/TD Ameritrade, and E*Trade, and have the skills to establish a secure environment for kids and parents to use Web 3.
While at Copper, Rush oversaw initiatives to educate kids about investing but discovered that switching the word "stock" to "crypto" was driving more interest.
He would also read Reddit postings from young people attempting to get into cryptocurrency who used their parents' information to open accounts on exchanges like Coinbase or Robinhood only to have those accounts promptly closed for being underage.
According to Will Rush;
"We need a big lift to make it relevant to teenagers and are looking at educational topics like NFTs, met averse, and web3. We aim to be the trusted account for democratizing investing for young people."
Stack Secures $2.7 Million in Funding
Following a $2.7 million investment from Madrona, The Venture Collective, Santa Clara Ventures, and a collection of angel and private investors, the app launched with more than 6,000 customers on the waitlist.  The latest investment brings Stack's total funding to date to slightly over $3 million.
The firm will be able to continue developing its app and its high school-focused financial literacy curriculum thanks to the additional financing infusion. Rush also wants Stack to broaden its product offerings and acquire other banking licenses.