The cryptocurrency market is currently experiencing a lack of momentum. Overall, the market presents a bearish outlook. Several coins have posted red candles over the past week or so. Bitcoin and Ethereum, along with several other tokens have shed a high percentage of their value. However, at the same time, STEPN (GMT) has shown its immense potential by persisting with a bull run.
The GMT token experienced a major price rise on Wednesday, as the coin approach the $4.50 mark in a long green candle. It was major boost for the coin that is currently ranked at #50 in the list of top cryptocurrencies. Even though the coin retraced after this bull rally, it still maintained its position among market gainers.
Over the last week, GMT has gained a boost of almost 20%. Its current price is around $3.78. However, the market cap of the token is above $2.25 billion, and its 24-hour trading volume is around $3.14 billion. The GMT token has gone up steadily since the end of March, rising up from $0.86. However, its recent price hike has shocked the crypto market, as the coin stormed into the list of top 50 cryptocurrencies.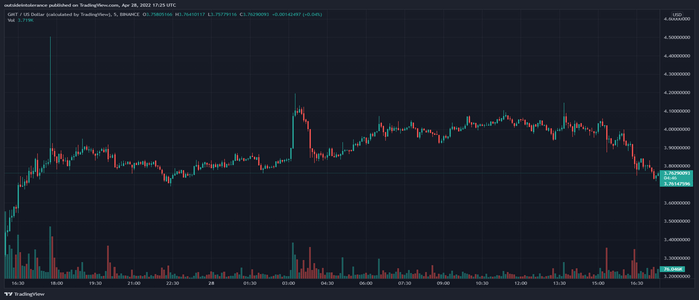 Can GMT hit $5 in the coming days?
In the past couple of days, GMT has remained at the top of the cryptocurrency market. Investors and traders have kept a keen look at the performance of the token. A significant spike is observed in the metrics of the token, and it is anticipated to further rise. But at the same time, investors should consider the corrections that might come GMT's way. The fear of missing out might influence the decision of investors.
The price of the GMT token faces resistance at $3.97. However, its support is at $3.36. The RSI and ADX levels of the coin suggest a minor pullback. But it is expected that the token may rise again towards the end of the month. GMT can test its targets around $4, and it can aim for the $5 mark in an ideal bull run.
The Step network is a Web3-based application. It has a game based on the Solana blockchain. The platform joins the play-to-earn world with the fitness sector. It incentivizes its users on their healthier life choices and preferences. Users of the platform buy NFT sneakers to use them for earning while they walk or run. This application has pursued a unique idea that is also a contributor to the performance of GMT.