The scope of digital currencies is constantly increasing in recent times. Several cryptocurrency tokens are making their way into the economic systems of different organizations and firms. However, now crypto is also storming into the economic space of nation-states. The breakthrough came when El Salvador accepted Bitcoin as a legal tender and became the first country in the world to do so. Following this, progress has been made in different countries for various tokens, like Bitcoin, Ethereum, Tether, Ripple, and so on.
In a recent development, Myanmar became the latest country to join the pro-crypto global team. It has now accepted Tether USDT as the official currency of the country's shadow government. Over the last few months, Tether was surrounded by several controversies. There were talks about how Tether has falsely claimed of being backed by the US Dollar, and it is just a bubble that will soon burst.
Tether also faced several regulatory concerns from different authorities around the world that ruined its image. Nonetheless, this latest initiative of Myanmar has helped the stablecoin to grow in confidence and popularity. It will also lead to an increase in the acceptance and utility of tether.
Shadow Government of Myanmar accept Tether
Lately, Myanmar is facing a political dilemma. The country's shadow government, under the leadership of the ousted, Aung San Suu Kyi, has acknowledged Tether as an official currency. This government is formed by an alliance of leaders that favor democracy in the country. Their alliance is called the National Unity Government (NUG), and it aims to topple the military regime in the country.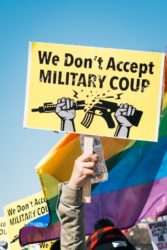 The government has announced that it now accepts funds and payments in Tether, and also plans to use USDT to fund its operations. The Finance Minister of NUG, Tin Tun Naing said that 'Tether is used for domestic use to make it easy and speed up the current trade, services, and payment systems.'
Back in 2020, the Central Bank of Myanmar did declare cryptocurrencies to be illegal. Therefore, this recent announcement made by NUG in favor of USDT is in direct contradiction to the ruling of the Central Bank. However, it remains to be seen that how the country takes upon the decision, and if it really works well for them.
Many experts and analysts of the crypto world, consider Tether to be a threat to the crypto ecosystem. Many regulators have consistently argued that the stablecoin is bound to collapse and trigger a financial crisis, sooner or later. Nonetheless, USDT is still the fourth largest cryptocurrency in terms of market capitalization.