The crypto market displayed impressive gains since the start of this year, making it seem that the market was well on its way towards recovery. The initial surge in prices was linked to good inflation data which restored the confidence of the common investor. However, things took a turn lately as Bitcoin (BTC) and other cryptocurrencies are trading in the red yet again.
The twist in the market can't be linked to a single reason, as a few of them have contributed towards the development of uncertainty. Among them is the SEC launching a probe against the Kraken exchange. The SEC has slapped Kraken with a $30 million fine for the violation of the securities law. Furthermore, the exchange is also suspending its staking service for US users.
Chairman of the SEC, Gary Gensler said,
"Whether it's through staking-as-a-service, lending, or other means, crypto intermediaries, when offering investment contracts in exchange for investors' tokens, need to provide the proper disclosures and safeguards required by our securities laws."
Another reason that contributed to the decline in the value of Bitcoin (BTC) is the SEC potential jab at crypto staking. Crypto staking is increasingly cherished in the crypto community, and targeting it might have adverse effects. In addition, a number of analysts believe that the market has taken a hit from the recently increased interest rates. Lastly, Binance's suspension of USD deposits and withdrawals in this week might have also triggered a bearish pattern in the market.
Bitcoin (BTC) and Other Cryptos Turn Red in the Last 24 Hours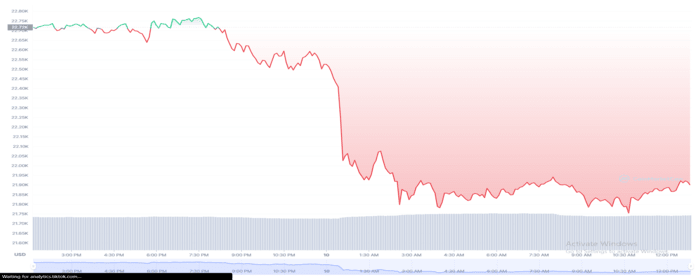 A few cryptocurrencies among the many to be affected as the result of increased uncertainty have been mentioned as follows.
Bitcoin (BTC): Despite maintaining the resistance level at the $23k mark, Bitcoin (BTC) has yet again suffered a dip in its value. Currently, the token is trading for $21,921 after witnessing a decline of 3.54% in the time frame of 24 hours.
Ethereum (ETH): Another victim of the uncertainty in the crypto market is ETH. The token has shed its value by 5.02% as of today and is now trading for nearly $1,552.
Binance Coin (BNB): BNB showed impressive gains since January, but fell sharply in this week. BNB lost its value by 4.81% in the previous 24 hours. As of now, the token is trading for approximately $307.71.
Cardano (ADA): The next crypto to suffer as a result of these bottlenecks is ADA. After suffering a decline of 6.50% since the last day, the token is trading around the $0.3635 mark.
Dogecoin (DOGE): DOGE was no exception either as the meme coin took a significant hit during the last 24 hours. The decline of 6.66% brought the trading value down to $0.08238.
Solana (SOL): At the time of writing, SOL is down by a whopping 7.84% since the previous 24 hours. Thus, the token is currently trading for $21.11.