The cryptocurrency market experiences a major correlation with global political and economic developments. Major cryptocurrencies, like Bitcoin, experiences significant changes in price trends and patterns in light of such events. This is why the conflict between Russia and Ukraine had a major impact on the crypto market. The rumors, developments of the war, and economic trends caused a shift in the trend of the digital asset industry.
As the war is still going on, the crypto market is reacting to the latest news that is coming in from Russia or from Ukraine. Most recently, the developments have been positive, as the market has turned green in the last few hours. The market leader, Bitcoin crossed the $40,000 mark yet again. At the time of writing, BTC is valued at around $39,300. However, as the chart indicates, Bitcoin experienced a surge in price following the comments of Russian President, Vladimir Putin.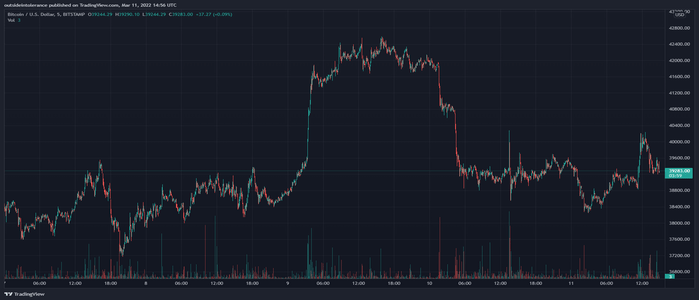 The negotiations hype up Bitcoin and other global markets
Along with the crypto market, other finance sectors have also proved to be quite vulnerable during the conflict. They have reacted negatively and also positively at times. This time around, Putin has commented that there was some "positive movement" in talks between the two countries. These talks were happening every day but there was no major outcome yet. Nonetheless, now they seem to be headed in the right direction.
Russia also faces extreme sanctions from the Western world and the US. These factors are pushing Russia to participate in negotiations rather actively. Russia's ruble is in tatters, whereas its economy is crawling with a broken back. Also, Putin had just said that it will bring in fighters from the Middle East. Thus, the "positive movement" might be an indication of the change of plans.
These comments from President Putin have pushed the global financial market to perform exceptionally well. The markets in Europe and the US have received a boost, as they continue to post green candles. On the other hand, the cryptocurrency market has also taken a sigh of relief. Bitcoin rose from a low of around $38,000. Even though it has retraced to below $39,500, the coin had crossed $40,200 at one point.
In wake of Putin's comments, other cryptocurrencies, including ETH, SOL, XRP, and DOT have also posted positive results. All of these coins have experienced a significant gain in their valuations. The crisis between Russia and Ukraine is already having a severe economic impact. Thus, such developments might prove to be good damage control for the economic sector.