The purchase of citizenship, e-residency, and land using a cryptocurrency the government of the Central African Republic announced last month was found to be unconstitutional on Monday by the Constitutional Court of the nation, according to a report by the news source Reuters.
The government's intention to reward investors who buy $60,000 worth of its government-backed cryptocurrency, the sango coin, was met by the high court's verdict–which deemed the plan unlawful. 
CAR's plan for Sango Coin
The government had planned to provide citizenship, land, and valuable minerals to investors who made the purchase.
The "Sango Coin" went on sale on July 21 despite a recent significant decline in global crypto prices and amid concerns about the project's feasibility in a poorly connected and conflict-torn African nation. 
The idea would have allowed international investors to purchase "e-residency" for $6,000 and citizenship for $60,000 worth of cryptocurrency, with the equivalent Sango Coins retained as collateral for five years.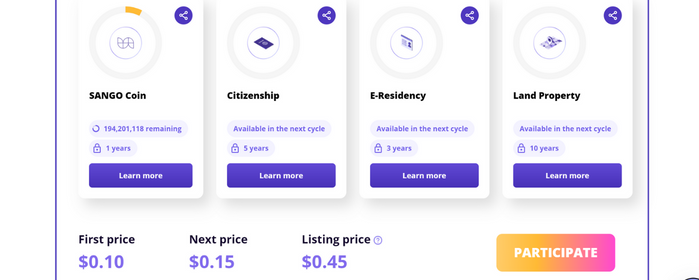 According to the Sango Coin website, the largest landowner in the country is the Central African Republic's government, which is attempting to decentralise land ownership through SANGO. By locking fixed collateral of SANGO Coins in the amount of $10,000 for a period of ten years, one can receive the land plot. Then the owner receives the SANGO Coins back after the time period is up.
Court deem the purchases unconstitutional
The Central African Republic (CAR)'s top court, however, found the purchases "unconstitutional," citing, among other things, the fact that nationality did not have a market value and that residency required a physical stay in the country.
In April, the CAR became the second country in the world after El Salvador to accept bitcoin as a legal tender. It was also the first African country to do so.
President Faustin-Archange Touadera has defended the Sango Coin as a remedy for the financial exclusion that will encourage investment in the Central African Republic's abundant mineral resources, including enabling investors to buy properties with cryptocurrencies without paying income tax.
Crypto specialists are concerned about this, and the International Monetary Fund has warned that it is not a "panacea" for the region's difficulties. Additionally, two past CAR prime Ministers said the nation shouldn't adopt a cryptocurrency without the Bank of Central African States, the central bank for the region, giving its approval.