The global cryptocurrency market, as well as the traditional market, have both experienced considerable rises following the Federal Reserve's most recent interest rate announcement. In light of pressing concerns about inflation and recession, digital assets, in particular, seem to be at the mercy of the central bank and larger markets.
This is demonstrated by the fact that the global market cap has remained above one trillion dollars for the past seven days, although slightly dropping below the trillion-dollar status on Tuesday. The global market cap shot up in response to the announcement on Wednesday and is now hovering around $1.05 trillion.
The cryptocurrency markets shrugged off the news from the Federal Reserve and continued their two-day upward trend, with bitcoin rising 10% at one point to $22,982 on Coinmarketcap. At the time of publication, Ether was up more than 16% and was trading at $1,625, while Polkadot was up 17% and was at $7.58.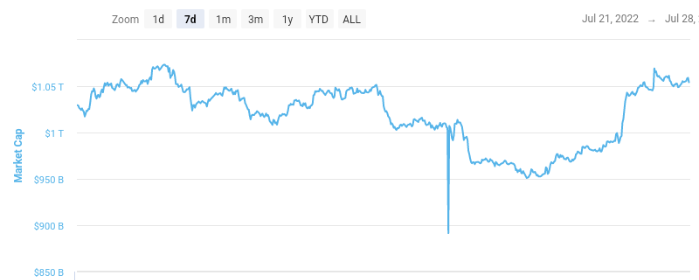 Federal Reserve's Rate
The Federal Reserve increased its key short-term rate by three-quarters of a percentage point for the second consecutive month on Wednesday in an effort to rein in skyrocketing inflation, matching the biggest hike since 1994.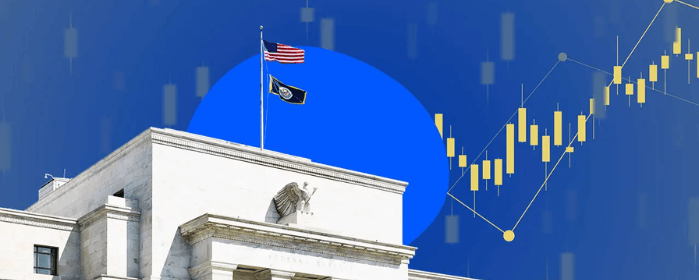 This serves as the fourth rate increase of the year. The cause of the increases: The rate of price increases for products and services is at its highest level in forty years. When compared to June of last year, they increased by more than 9% last month.
It places the federal funds rate, which is what banks charge each other for overnight loans, in the 2.25 to 2.5% range, which is near to the Fed's long-run, or neutral, rate of 2.5%. It is planned for that rate to neither promote nor discourage economic growth.
Stocks Surge in response
On Wednesday, the Dow Jones Industrials Index ($DOWI) (DIA) closed up +1.37 percent, Nasdaq 100 Index ($IUXX) (QQQ) closed up +4.26 percent, while the S&P 500 Index ($SPX) (SPY) closed up +2.62 percent.
Similarly, stock indices started higher thanks to mega-cap technology companies' better-than-anticipated quarterly earnings reporting. After reporting higher than anticipated Q2 advertising income, Alphabet's stock increased by more than 7%. Microsoft increased by more than 6% after announcing that it anticipates double-digit sales growth for the fiscal year 2023. Texas Instruments' share price increased by more than 6% on Wednesday after the company predicted greater third-quarter sales. Most Q2 corporate earnings reports have been positive for stocks, with 78 percent reporting S&P 500 companies beating expectations.
Ethereum 2.0 is approaching
Some experts claim that, in addition to a number of other potential causes, the announcement of the Ethereum 2.0 Merge, which is scheduled to take place in August 2022, is one of the primary factors for the market turning bullish. Additionally, Polygon revealed the debut of their brand-new Layer-2 network, which ought to interact with Ethereum.