As the cryptocurrency market continues to hit new trends in the industry, several new coins are making their presence felt. With the growing popularity of concepts like NFTs, DeFi, and Metaverse, many tokens are attracting investors and traders to explore their networks and ecosystems. Similarly, Decentraland (MANA) hit a new all-time high this week, as Metaverse tokens continue to upsurge.
Decentraland remained bullish even in the sheer market correction period over the last few weeks. However, its price has gone down after hitting the ATH. The metaverse token was unable to recover, as there was a record selling for a digital plot to Tokens.com. Irrespective of the recent bear run, experts and analysts are quite bullish on Decentraland. They do expect a trend reversal on the token that could push the price of the token to new highs.
What is in store for Decentraland?
Upon rallying earlier this week. MANA price hit an all-time high of $5.85. Soon after that, it dropped by 25% within two days. One major reason for this price crash was the sale of a virtual estate in Decentraland. The Metaverse Group which is a real-estate company paid $2.43 million for a digital plot. This price was twice from the asking price of the virtual plot, and it was paid for in MANA.
However, soon after this news, the price of the token did consolidate by a significant margin. After posting 40% gains in the last two weeks or so, the coin did go down to experience a correction. At the time of writing, MANA is valued at $4.61. The experts and market analysts have set a target of over $8.50 for the next bull run.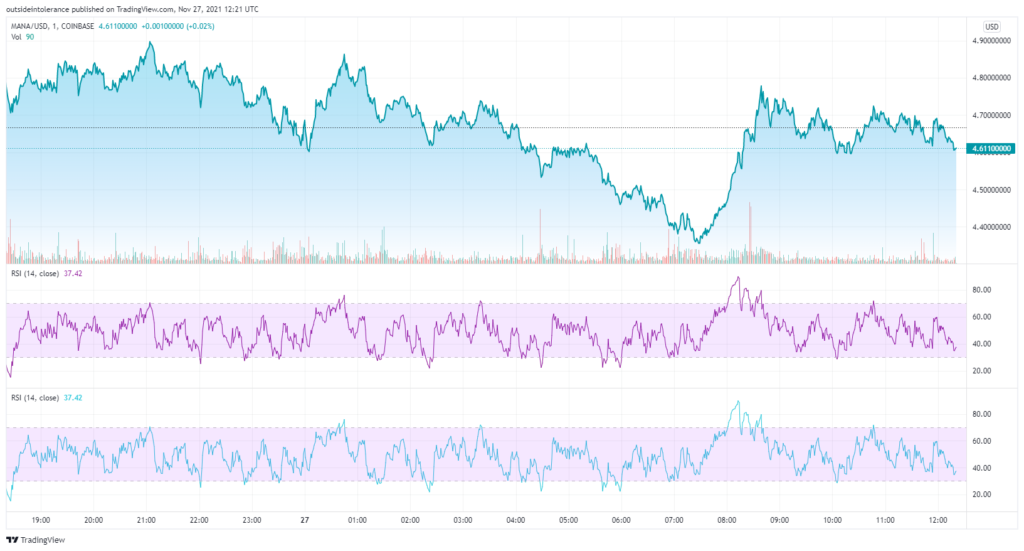 There have also been strong whale movements across Decentraland. One MANA whale moved 9 million tokens to an unknown wallet address. These tokens were worth over $40 million. Yet, these whale movements indicate a higher interest in the token, and also attract more users on the platform. Many new investors are looking for scalping opportunities as well in the token.
However, the next few days will present a clear image on whether the token goes bullish or bearish. The movement of Bitcoin and other metaverse tokens will also have an impact on Decentraland. Other such tokens, including Decentraland's competitor, Axie Infinity has also experienced a massive upsurge in valuation as well as adoption in recent times.