Elon Musk's takeover of Twitter has generated growing interest in Dogecoin, with the dog-themed cryptocurrency coin surging more than 97%, following last week's gains when the billionaire secured a $44 billion agreement to take over Twitter.
The prices of Dogecoin, Bitcoin, and possibly the entire crypto market—which is currently worth well over $1 trillion—have been significantly impacted by the Tesla Inc. CEO, who is a well-known prominent crypto supporter.
This is not the first time Elon Musk's activities have driven Dogecoin's price momentum. Tesla began taking Dogecoin as payment for its products at the beginning of this year, and the firm's recently launched perfume line is also available for purchase using the memecoin.
In addition, the most recent incident caused DOGE's market cap to exceed smart contract platforms Cardano, Polygon, and Solana and move up to the eighth-largest cryptocurrency in the world, according to Coinmarketcap, with a $15.3 billion market cap.
As previously reported, the world's largest cryptocurrency exchange Binance, which has funded $500 million in Musk's takeover of Twitter, has stated that it is exploring methods on how blockchain may benefit Twitter.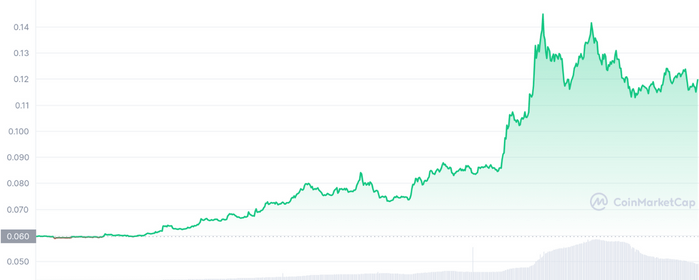 The relationship between Musk's Twitter acquisition and DOGE's enormous price increase should be no surprise since many crypto users expect Musk to integrate Dogecoin into Twitter. He allegedly stated that his intentions were to make Twitter open-source and decentralised, accept Dogecoin as payment for Twitter services, and combat crypto spamming bots.
Dogecoin Plummets Early Monday
The popular memecoin has declined by more than 9% today, currently settling at $0.117 at press time. Its 24-hour trade volume has also plummeted by up to 60%.
The market's performance during the last seven days appears to be somewhat optimistic, as most currencies, including bitcoin, are all displaying weekly gains.
However, the rest of the altcoins are a lot calmer, even with minor losses in daily trading charts. These are the situations with Ethereum, Ripple, Solana, MATIC, Polkadot, Shiba Inu, Tron, and Avalanche.
After all, the combined market cap of all crypto assets has remained well above $1 trillion, given the boost provided by Dogecoin's profits.
Early last week, bitcoin crossed the $20,000 threshold, and it hasn't turned back since. The only time it fell short of surpassing $21,000 was when the ECB announced the most recent interest rate rise, which sent the BTC down to $20,495 at the time of publication.