The data aggregator CoinGecko shows that during the previous twenty-four hours, the value of Theta Fuel (TFUEL) has increased by approximately seven percent, making it one of the top five cryptocurrencies with the largest gain at the time of publication.
Theta Fuel Up 7% In The Past 24 Hours
Theta Fuel (TFUEL) saw a bearish opening to the week, but it has since found significant support. TFUEL was trading at a higher price this morning, 14.31% higher, after a climb of 8.05% on Thursday.
The breakthrough is a result of the price has dropped to $0.05321 on Tuesday, which was an August low. As of the time this article was published, its price has increased by 6.9% to $0.067688.
TFUEL would have a chance to challenge the high it reached in May of $0.1465 if it were to break past the high it reached on August 12 of $0.08382. TFUEL would have a clear path to the peak of $0.2449 in March and 2022 if it were to start at $0.15.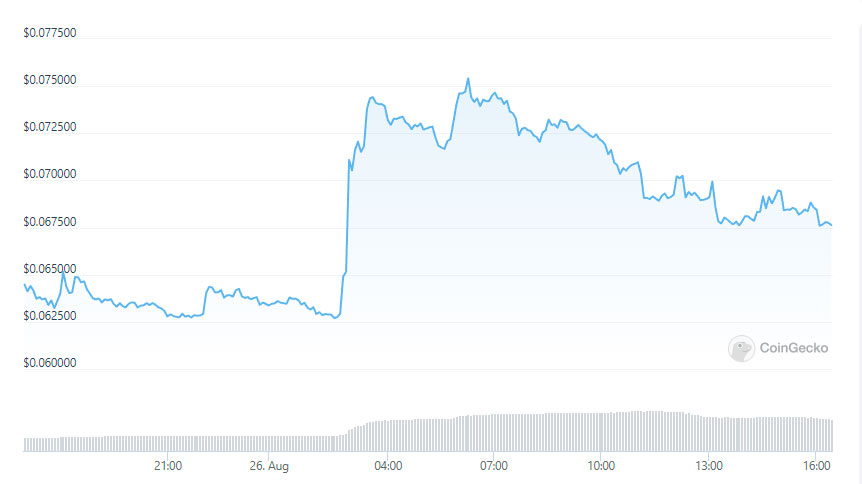 The price of Theta Fuel in the future is difficult to forecast since it is dependent on a variety of circumstances. These factors include the efficiency of the Theta Fuel network, the state of the global economy, the success of the stock market, and the cost of various other cryptocurrencies.
However, if Theta Fuel continues to grow as a platform at the rate at which it is currently growing, it is possible that the price evaluation for TFUEL could easily return to its past prime and probably even surpass it.
This would be the case if Theta Fuel continues to grow at the rate at which it is currently growing.
If the last year's performance of Theta Fuel is any indication, the cryptocurrency may have a significant price increase by the end of this year and break beyond the $0.18 threshold.