United States Presidential hopeful and current governor of Florida, Ron DeSantis, has officially announced his bid for the 2024 United States presidency with a unique promise to protect Bitcoin (BTC) via a Twitter space on May 24. 
DeSantis engaged in the Twitter Space session alongside Elon Musk, where he expressly stated that he has an unalloyed commitment to safeguarding Bitcoin (BTC) if elected.
— Elon Musk (@elonmusk) May 24, 2023
The Twitter broadcast of DeSantis' announcement drew considerable attention, attracting approximately 520,000 live listeners, including venture capitalist David Sacks, who moderated the discussion. 
While DeSantis disclosed his intention to create avenues where investors can easily engage with cryptocurrencies like Bitcoin, he acknowledged the associated risks.
He further attributed the resistance towards Bitcoin from certain individuals in Washington to their lack of control over it. He described these figures as "central planners" who sought to exert absolute dominance over society. 
DeSantis maintained that Bitcoin posed a threat to their power, leading them to attempt to regulate it out of existence.
In the same vein, he highlighted the ongoing jurisdictional battle between the Securities and Exchange Commission (SEC) and the crypto space, alluding to SEC Chair Gary Gensler's assertion of authority in the realm of cryptocurrencies.
He criticized the bureaucracy, likely referencing the SEC, for stifling the industry. He expressed his aversion to an overbearing regulatory regime, predicting that President Joe Biden's administration, if re-elected, would enact policies that would have adverse effects on Bitcoin.
It should be noted that DeSantis had already demonstrated his pro-crypto stance in May by signing an anti-central bank digital currency (CBDC) bill in Florida. This legislation prohibits the use of federal CBDCs as legal tender.
Review of the Cryptocurrency Future on Biden's Hands
In recent times, cryptocurrencies have been facing several regulatory bottlenecks. On May 9, President Joe Biden raised an issue on "tax loopholes" claiming to recoup $18 billion from cryptocurrency tax.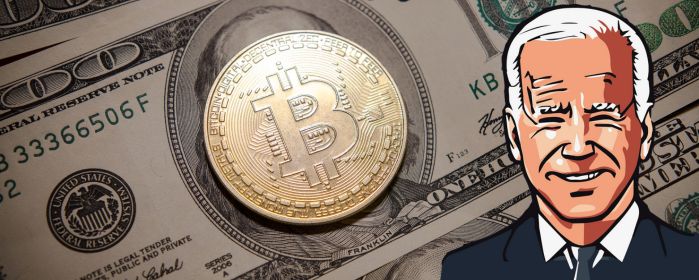 In the same vein, the United States Securities and Exchange Commission (SEC) and Coinbase crypto exchange have been at loggerheads over the need for clear crypto regulation. 
There is no mincing word that Ron DeSantis' position resonated with proponents of digital currency and sets the stage for an engaging debate on the role of cryptocurrencies in the United States' future.