The market leader in cryptocurrencies, Bitcoin (BTC), was able to break above $23,000 in trading on Tuesday afternoon and trade at about $23,350 after a series of events caused the global market cap to decline.
Due to extreme market trepidation and US inflation data that broke records, bitcoin's price fell to under $19,000 on July 13. Since then, it has increased by more than 12 percent and reached its highest level yesterday, since last month.
The live Bitcoin price at press time was $23,364 according to coinmarketcap data, with a 24-hour trading volume of around $48 billion and a 42% market dominance.
Market turns green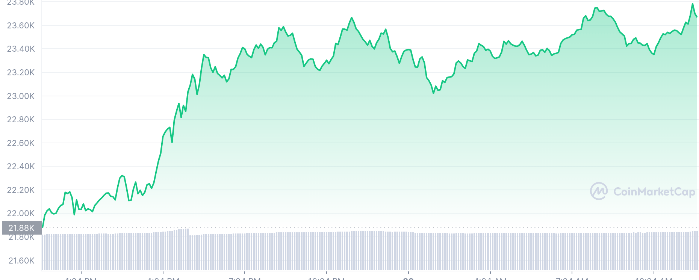 Major altcoins have been performing quite well in recent days, as is evident from the declining BTC dominance.
Over the past 24 hours, Ethereum has increased by almost 45 percent, and Cardano has increased by about 24 percent.
The second-largest cryptocurrency, which is currently trading at $1,550, has been steadily outperforming bitcoin in recent days. It reached a high of $1,500 on Monday.
The cryptocurrency market is largely pictured in green. Dogecoin (DOGE), which is up 12.3% on the day, and FLOW, which is up 11% on the day, are two of the more notable gainers.