Acala has become the most recent Defi protocol to come under attack, as hackers issued 1.2 billion aUSD on August 14 and saw a 99% decline in price.
After the protocol was compromised and the attack was carried out, the value of the Polkadot-based stablecoin alpaca usd (AUSD) plunged dramatically below USD parity.
Misconfiguration of a liquidity pool
The Acala team informed users on Twitter shortly after the hack that the exploit was the result of a "misconfiguration of the iBTC/aUSD liquidity pool."
We have identified the issue as a misconfiguration of the iBTC/aUSD liquidity pool (which went live earlier today) that resulted in error mints of a significant amount of aUSD
1/

— Acala (@AcalaNetwork) August 14, 2022
According to the team, the configuration error has subsequently been fixed, and wallet addresses that received the incorrectly minted aUSD have been discovered, while the on-chain activity tracing for these addresses is currently under process.
As per the preliminary on-chain tracing, most (99%+) of the incorrectly issued aUSD are still present on the Acala parachain and only a small part has been exchanged for ACA and other tokens.
On-chain detectives have noted that the attacker who made 1.28 billion aUSD was not the only one to exploit the bug. Several other users are said to have stolen DOT worth thousands of dollars from the liquidity pool, while a few other users extracted value, though it is difficult to determine whether they did so maliciously.
The 1 Billion $aUSD Incident -> on-chain analysis

Small thread about what happened on Acala during the hours of the incident and how much damage was done.

My estimation of the damage is 0-10m USD, likely around 1.6m USD with chance of recovery.

🧵👇

— Alice und Bob (⚖️,⚖️) (@alice_und_bob) August 14, 2022
"Next up, we will continue on-chain activity trace, and share the results with the community to facilitate the formulation of community proposal & decision making to resolve the error mint of aUSD & restore aUSD peg. Thanks for your patience & support, will update as we progress," the Acala team noted.
Stablecoins losing parity
2022 has been the year of unstable coins, as several dollar-pegged digital assets keep de-pegging from their dollar value this year.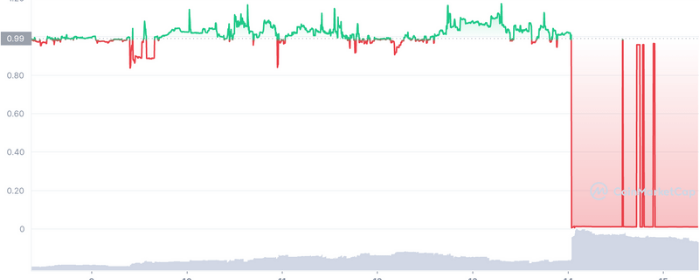 The whole Terra ecosystem collapsed as a result of the depegging of the terra usd (UST), now known as USTC, and more than $40 billion vanished from the crypto industry. Terra's USTC never regained the $1 peg, although, at the time of publication, USDN, MIM, and USDD were all trading at $0.99 per coin.
Besides USDT, USDC, DAI, and a couple of others, several stablecoins have had an awful year in terms of holding their U.S. dollar value.