Binance, the world's largest cryptocurrency platform, has been moving into several markets over the past few months with the expansion of its services globally.
The company has established locations in many countries and has also been seen helping governments advance the crypto and blockchain industries.
Busan City has recently been added to the list after the leading cryptocurrency exchange revealed on August 26 that it is signing an MoU with the South Korean city.
Met with Mayor Park Heong-joon to sign the first blockchain MOU for Busan, Korea 🇰🇷. Pushing adoption. https://t.co/Hhgl2ndsZb

— CZ 🔶 Binance (@cz_binance) August 26, 2022
Binance to accelerate blockchain adoption in Busan
According to the official press release, Binance will provide technical and infrastructure support to the City of Busan for the growth of the city's blockchain ecosystem and the promotion of the Busan Digital Asset Exchange as part of the agreement.
It also intends to promote blockchain initiatives and businesses using a variety of strategies, including making use of Busan's blockchain regulatory-free zone.
Similar to this, the CZ-led business will aid in blockchain-related research and investments in the city while also offering Binance Academy–a division of the company, specialized blockchain education and online resources.
Binance will be present in Busan by the end of the year
The agreement, according to the firm, will advance social welfare initiatives through Binance Charity and aid in the planning of Blockchain Week in Busan in 2022. (BWB 2022).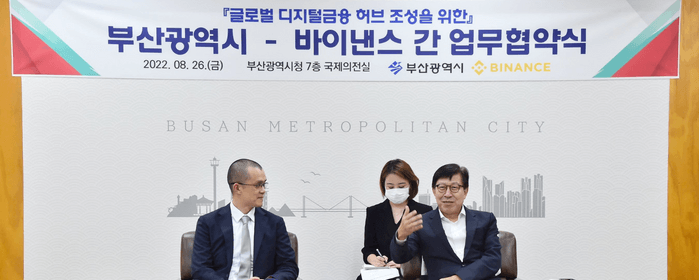 Furthermore, Binance is anticipated to open a South Korean office in Busan later this year, which is anticipated to help pave the way for the city to develop into one of East Asia's most active digital hubs.
Binance's CEO and founder, CZ (Changpeng Zhao), expressed his company's pleasure to be collaborating with the City of Busan to bring about concrete blockchain-related developments that will aid and support the city's innovation initiatives.
"Through our industry-leading position and technological expertise, combined with the City of Busan's strong support for the blockchain industry, we hope to help grow crypto adoption within the city and beyond. We look forward to our close cooperation with the city to support the establishment of digital asset exchanges and various blockchain industries," he concluded.
However, Heong-Joon Park, Mayor of Busan, asserted that as a result of this arrangement, the nation is one step closer to establishing the Busan Digital Asset Exchange as a globally integrated platform for digital assets.
"By making Busan a blockchain-specialized city that is attracting worldwide attention, we will boost a new growth engine for the local economy and make it a global digital finance hub," he added.
The world's largest crypto exchange Binance entry into South Korea is eagerly anticipated by the global crypto community after the Terra-LUNA crisis caused the nation's regulators to tighten crypto regulation and oversight.